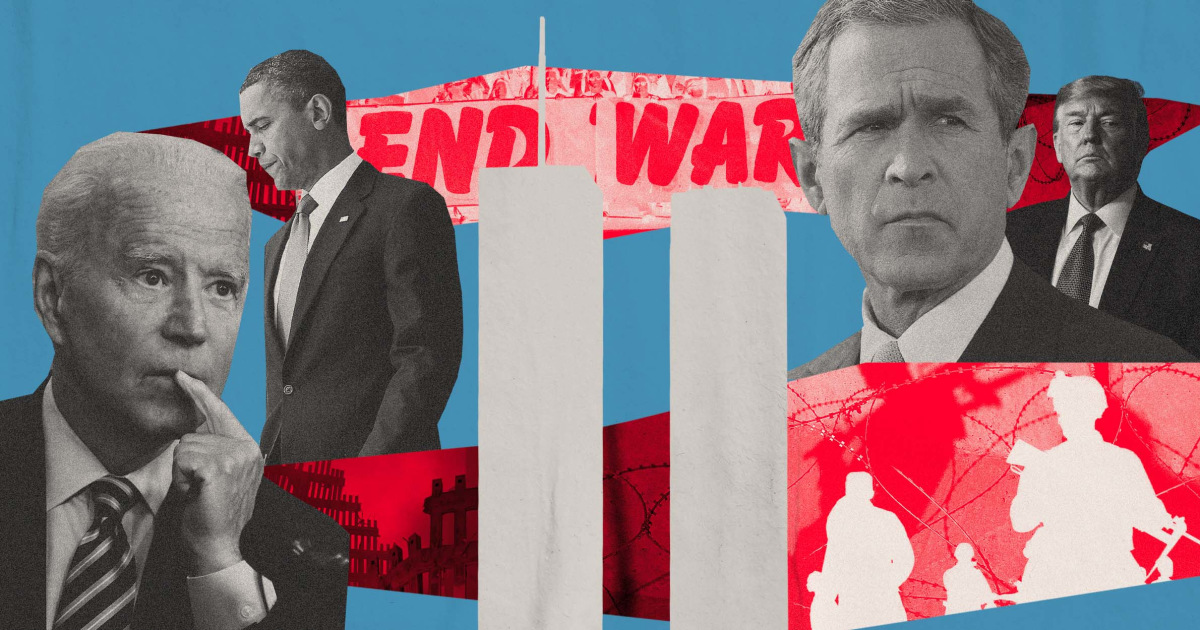 Shifting public opinion
By 2006, voters had become weary and wary of war, particularly in Iraq, a country that had not attacked the U.S. The Bush administration's expansive use of executive power to prosecute the wars included warrantless wiretapping, the "extraordinary rendition" of terrorism suspects to third countries where brutal interrogations could be carried out and the establishment of a detention and torture camp at the U.S. naval base in Guantánamo Bay, Cuba.
It also emphasized rebuilding the nations ravaged by U.S. forces as an imperative to prevent U.S. enemies from gaining power. The costs were billed to taxpayers.
Grassroots conservatives came to see Bush as a profligate spender, both in the war effort and in his authorship of expansive federal domestic programs, such as Medicare's prescription drug benefit and the Education Department's No Child Left Behind law. The failure to make discernible progress in Iraq, coupled with Bush's failed response to Hurricane Katrina, opened questions about his competence not just for Democrats but for some Republicans, too.
"It was one thread in the decline of confidence that my generation has exhibited in the integrity and competence of the U.S. federal government," said Rep. Jake Auchincloss, D-Mass., who is 33 and commanded a Marine platoon in Helmand province in Afghanistan.
"George W. Bush still does not get enough opprobrium," Auchincloss said, arguing that Bush lied to the public about "two spectacularly failed" wars. "I can remember what the atmosphere was like after 9/11. The world was rallied behind us. … He squandered it."
While Americans remained in favor of the U.S. operations in Afghanistan in the mid- to late aughts, support for the Iraq War drained. Democrats swept the 2006 midterms, and they used their new power to signal their readiness to withdraw from Iraq by pushing for a timetable to end the war.
As a presidential candidate in 2008, Sen. Barack Obama, D-Ill., vowed to prioritize ending the Iraq War "responsibly" and "finishing the fight against Al Qaeda and the Taliban." His treatment of the two wars — one misbegotten and one poorly executed — reflected public sentiment.
In March 2003, 75 percent of Americans thought the war in Iraq was not a mistake, according to Gallup. By November 2006, the figure was at 40 percent, and it remained in that range until November 2008, when Obama faced McCain in the presidential election.
But support for the war in Afghanistan remained solid toward the end of the Bush presidency — at 70 percent, according to Gallup — and it lost altitude slowly. Only twice in the last 20 years have more Americans said they believed that war was a mistake, and only by razor-thin margins. In July, 47 percent said it was a mistake, and 46 percent said it was not.
Auchincloss said the wars were different from previous U.S. military engagements that required sacrifice — and commanded attention — from the public.
"We've got to ask hard questions as a democracy about whether we should be able to wage a war on the periphery for an entire generation," he said.
All the while, policymakers wrestled with the potential national security and political consequences of withdrawing U.S. troops. Until Biden, none of them felt comfortable ending a war on his own watch.
"There have been a cascade of misjudgments," Jeh Johnson, who was general counsel at the Pentagon and secretary of homeland security in the Obama administration. He said advisers to presidents counseled that stabilizing Iraq and Afghanistan required counterinsurgency efforts and ultimately nation-building. Removing any piece of the military, intelligence, diplomatic and aid efforts could topple the operations, they were advised by the people who were in charge of the efforts.
"Once you're in that situation, it's tough to back away from it," he said at the Bipartisan Policy Center's virtual seminar. "To his credit, President Biden said: 'I've seen this movie. … It's time for us to get out.'"