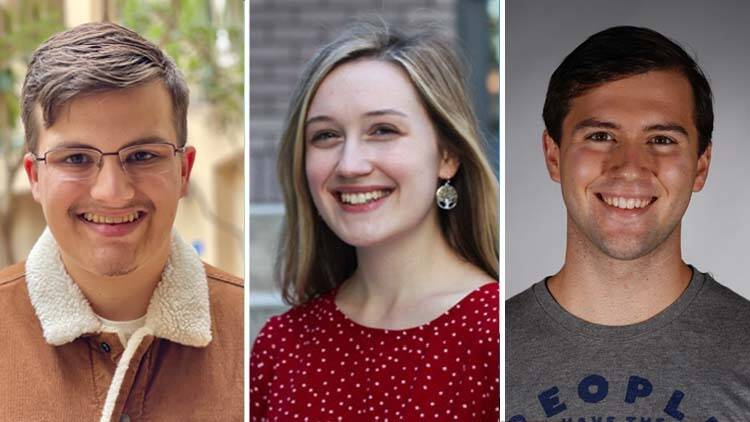 NEW YORK, N.Y. – The Rev. Matthew F. Malone, S.J., president and editor in chief of America Media, announced today the selection of three graduating seniors from U.S. Jesuit and non-Jesuit colleges and universities to serve as the 2022-23 Joseph A. O'Hare, S.J., Postgraduate Media Fellows. This year's fellows are:
Christopher Parker: graduating senior, University of Notre Dame
Valerie Pavilonis: graduating senior, Yale University
Cristobal Spielmann: graduating senior, Loyola Marymount University
O'Hare fellows spend one year at America Media working on print, digital, audio and film projects while benefiting from mentoring and professional development opportunities. Fellows reside at Fordham University Lincoln Center, where they engage in a dynamic community in the heart of New York City, the media capital of the world.
"This is a highly competitive program and unique opportunity for graduating seniors interested in pursuing a career in journalism," said Matt Malone, S.J., "and we are proud to continue offering this opportunity by welcoming Christopher, Valerie and Cristobal as the seventh cohort of fellows to become a part of the America team."
The Joseph A. O'Hare, S.J., Postgraduate Media Fellowship is a program of America Media, co-sponsored by Fordham University. The fellowship is named in honor and memory of Joseph A. O'Hare, S.J., who served as editor in chief of America (1975-84) and president of Fordham University (1984-2003).
The O'Hare fellowship is made possible through the generosity of William J. Loschert, KSG, of Fordham University's Gabelli School of Business, Class of 1961, and a former member of America Media's board of directors.
About the 2022-23 O'Hare fellows
Christopher Parker is a senior graduating from the University of Notre Dame, where he studies history, Latin and journalism. He was born in London and grew up in Westchester County, New York. He has worked as a reporter and audience engagement journalist at Notre Dame Magazine, the Los Angeles Times and the Berkshire Eagle. He is excited to return to New York, and he hopes the O'Hare Fellowship will be an opportunity to hone his news skills while reporting on meaningful issues at America.
Valerie Pavilonis is a senior graduating from Yale University, where she studies English. She covered sports, education policy and the Yale administration as a reporter for the Yale Daily News (YDN), and worked as a YDN editor for a year after that. Besides her work for the YDN, she has planned events at Yale's Saint Thomas More Chapel and has debated with Yale's Tory Party. During summers, she worked for the American Enterprise Institute, the Yale Law School and the United States Court of Appeals for the Second Circuit. She reads fiction and the news constantly, and she's excited to grapple with present-day political topics through a Catholic lens at America.
Cristobal Spielmann, born in Chile and now hailing from San Antonio, Texas, is a graduating senior from Loyola Marymount University with a B.S. in environmental science and a minor in political science. Since 2019, he has served in the opinion section of the campus newspaper, The Los Angeles Loyolan. Cristobal has reported for two other initiatives of The Loyolan, Election 2020 and Project Citizen: Climate360, explaining political and environmental topics to a college audience. Outside of journalism, he has also participated in habitat restoration with both the Friends of Ballona Wetlands and the Bay Foundation. Cristobal aims to strengthen his commitment to and love for the environment through his work with America.
About the O'Hare Fellowship
The Joseph A. O'Hare, S.J., Postgraduate Media Fellowship supports the next generation of writers for the Catholic media and other forms of professional journalism. The fellowship offers three recent graduates of Jesuit and non-Jesuit colleges or universities in the United States or Canada the opportunity to develop their literary skills and professional relationships while living and working in the capital of global communications, New York City. O'Hare fellows spend 11 months working at the offices of America Media, where they will generate content for America's multiple platforms: print, web, digital, social media and events. O'Hare fellows enjoy a rich personal and professional experience through ongoing mentoring and other opportunities. Fellows meet regularly with America's editorial staff, including James Martin, S.J., editor at large of America and a New York Times best-selling author, in order to cultivate their skills and professional networks. At the conclusion of the program, O'Hare fellows are uniquely suited to pursue successful careers in the Catholic media or other forms of professional journalism. O'Hare fellows receive housing at Fordham University's Lincoln Center Campus, health care coverage and a monthly stipend for living expenses during the 11 months of the program. www.oharefellows.org
About America Media
America Media is the leading provider of editorial content for thinking Catholics and those who want to know what Catholics are thinking. America Media leads the conversation about faith and culture by producing excellent, unique, relevant and accessible content across multiple platforms. Our contributors are the principal figures in the American church; the decision-makers and opinion leaders who lead the ecclesial and civic debate about religion, society, politics and the arts. Those with something to say to the American church say it in America: popes and presidents; Nobel laureates; Pulitzer Prize winners; world-renowned scholars; and distinguished men and women of letters. Our flagship magazine, America, has been published continuously since 1909, making it one of the oldest periodicals in the United States today. www.americamagazine.org