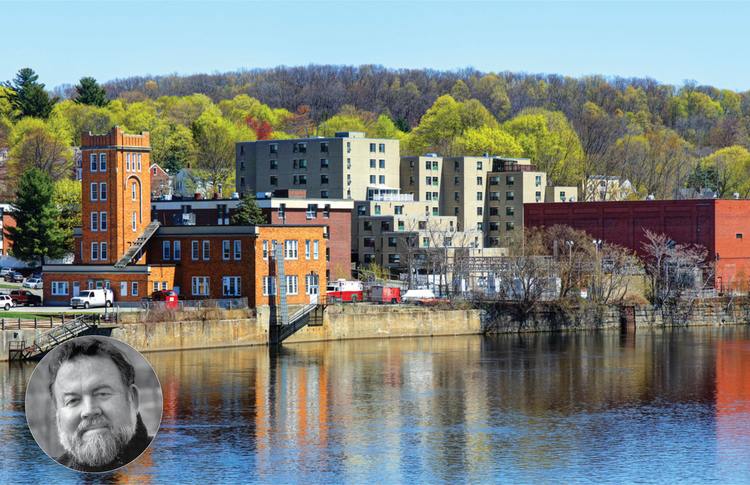 Happy belated Father's Day! We all probably have a favorite short story or novel about dads (no shade if it's "King Lear," it happens), and this past week brought me back to a classic, one of the most haunting yet beautiful tales I have ever read about fatherhood (and Catholicism): Andre Dubus's "A Father's Story." When I taught a course on American Catholic novels years ago, I would use this story for one of the first class discussions. A first-person account of a father who covers up a hit-and-run accident to protect his daughter, it takes the reader's certainties about morality and responsibility and sacrifice and turns them on their head.
Fans of Dubus received a new chance to enjoy his work with a three-book re-release of his short stories in 2018; one volume, The Winter Father, was a Catholic Book Club selection in 2019. In his interpretive essay on the book, Catholic Book Club moderator Kevin Spinale, S.J., called Dubus a "writer of Old Testament clarity" and described "A Father's Story" as a tale "thick with insight into prayer and parental love." Father Spinale singled out the following passage from the story as some of Dubus' finest work:
When I received the Eucharist while Jennifer's car sat twice-damaged, so redeemed, in the rain, I felt neither loneliness nor shame, but as though He were watching me, even from my tongue, intestines, blood, as I have watched my sons at times in their young lives when I was able to judge but without anger, and so keep silent while they, in the agony of their youth, decided how they must act; or found reasons, after their actions, for what they had done. Their reasons were never as good or as bad as their actions, but they needed to find them, instead of the awful solitude of the heart.
In a review of all three volumes—We Don't Live Here Anymore, The Winter Father and The Cross Country Runner—for America, Franklin Freeman described Dubus as "an irascible, loyal, loving, smoking, hard-drinking, hard-punching, tender man, who demanded much of himself and others," and whose style was a cross between Chekhov and Hemingway. Born in 1936 in Lake Charles, La., Dubus served in the Navy after college and then enrolled in the Iowa Writers Workshop, where he studied with Kurt Vonnegut and Richard Yates, among others. He taught for many years at Bradford College in Massachusetts, publishing novels, essays and short stories all the while.
"Dubus was an irascible, loyal, loving, smoking, hard-drinking, hard-punching, tender man, who demanded much of himself and others."
While trying to help a stranded motorist outside Boston in 1986, Dubus was hit by a car (a strange echo of the central action in "A Father's Story") and lost the use of both legs; with typical bluntness, he described himself for the rest of his life not as a paraplegic, but "a cripple." The accident also robbed him of a daily ritual—walking to morning Mass at the local parish. He died in 1999.
His son Andre Dubus III is also a well-known author, including The New York Times bestsellers House of Sand and Fog, The Garden of Last Days and a memoir of his childhood,Townie (which makes it clear that his dad wasn't exactly father of the year for much of the son's life), and was interviewed for America by Freeman in 2018. "Because he wrote so well and deeply about the human condition, his editorial rejections were few and far between, as far as I know," Dubus's son told Freeman. "His biggest publishing challenge had more to do with his being a writer of short stories as opposed to the more commercial form, the novel." Father and son are not the only two writers in the extended family: Dubus's first cousin is the novelist James Lee Burke.
In 1986, America literary editor Patrick Samway, S.J., interviewed Dubus for the magazine (the same issue, Nov. 15, 1986, included an essay by Joseph Feeney, S.J., on Dubus's fiction, one of many America reviews of Dubus's work over the last five decades). Dubus had some harsh words for the American religious landscape. "I've seen the whole of my fictive world through the eyes of someone who be­lieves the main problem in the United States is that we have lost all spiritual values and not replaced them with anything that is compara­ble. We just pretend all this. We never have been a Christian country," Dubus told Father Samway. He went on:
As a matter of fact, there never has been a Christian country. Has there ever been a country that didn't kill its enemies, oppress the poor and bring the strong and the rich to power? Well, it sad­dens me and angers me. Maybe that's why I'm fascinated by the mystics, those who transcend all that drowns me. The mystics remain in harmony with the earth and their fellow human beings and, yet, are above it all as they enjoy union with God.
That desired union with God in a broken world lurks behind much of Dubus's fiction, with "A Father's Story" being a prime example. "The works of Andre Dubus are hard to read, even though they are beautifully written—combining the simplicity of Hemingway with the fullness and fluidity of Faulkner—because they face life and love so starkly," Franklin Freeman wrote in 2018. "Which is why, after almost every story and novella I read, I had to put the book down and wait before starting another. I had to let it settle into my soul before going on. And just that—the act of going on—is what Dubus encourages in us as we read him, to go on no matter how terrible and, in cyclical fashion, how glorious, life gets."
Andre Dubus: "The mystics remain in harmony with the earth and their fellow human beings and, yet, are above it all as they enjoy union with God."
•••
Our poetry selection for this week is "Zoo Announcement," by Stephen Mead. Readers can view all of America's published poems here.
In this space every week, America features reviews of and literary commentary on one particular writer or group of writers (both new and old; our archives span more than a century), as well as poetry and other offerings from America Media. We hope this will give us a chance to provide you more in-depth coverage of our literary offerings. It also allows us to alert digital subscribers to some of our online content that doesn't make it into our newsletters.
Other Catholic Book Club columns:
Happy reading!
James T. Keane