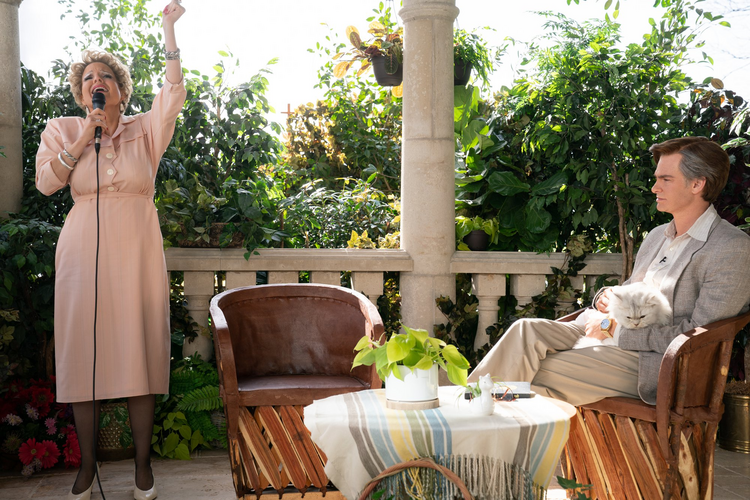 Addressing students at a Minneapolis bible college in the early 1960s, a young Jim Bakker—earnest, nasally and self-assured—denounces the evils of poverty. "God does not want us to be poor!" he proclaims, fully embracing the credo of prosperity gospel promoters and formulating his toxic marriage between religion and wealth. A scene from "The Eyes of Tammy Faye," it's a preview of coming attractions.
Andrew Garfield and Jessica Chastain are "the Ken and Barbie of televangelism" in "The Eyes of Tammy Faye," an often irreverent, bitingly satirical but oddly heartwarming portrait of tabloid fixture Tammy Faye Bakker (later Messner) and her once-prominent husband who was disgraced by charges of financial impropriety and a widely reported sexual assault allegation.
Andrew Garfield and Jessica Chastain are "the Ken and Barbie of televangelism" in "The Eyes of Tammy Faye."
Ahead of the release of the film on Sept. 17, America spoke with Jessica Chastain and Andrew Garfield about the nature of faith and the singular courage of Tammy Faye.
Beginning in 1974, the Michigan-born Bakker and his devoted wife Tammy Faye—known for her glittering outfits and bizarre, garish makeup—hosted "The PTL Club," a Christian talk program conceived as the evangelical response to "The Tonight Show."
Bakker, a former children's show host, became a charismatic servant of both God and Mammon. He and his wife fashioned themselves as the reigning king and queen of TV preachers while generous donations from their flock supported their lavish lifestyle and 2,300-acre religious theme park, named Heritage USA. The couple became the subject of relentless media scrutiny during the 1980s as an I.R.S. report revealed the Bakkers had diverted $1.3 million in church funds for their personal interests and Jim Bakker was accused of drugging and raping a church secretary, later buying her silence.
Jim Bakker, a former children's show host, became a charismatic servant of both God and Mammon.
But "The Eyes of Tammy Faye," based on the 2000 documentary of the same name narrated by RuPaul, makes Bakker's loyal wife and trailblazer Tammy Faye its main subject and unlikely hero.
At first introduction to Jim and Tammy, you will ask yourself, "Are these people for real?" It is a fair question. They arrive as grating Christian cartoon characters. Jim is a pharisaic combination of Eli Sunday and Elmer Gantry while Tammy Faye, subservient to her husband in near Stepford fashion, is a naïve songstress with what Jim calls "a whiny […] Betty Boop voice."
"She had the fearlessness of a drag queen," said Ms. Chastain, who prepared for this role over the course of a decade before director Michael Showalter took on the project. Noting Tammy Faye's flamboyant style, Chastain sought to embrace her "high camp" glamour without resorting to outright caricature or reducing her to a series of sequined gowns. "She loved makeup and clothing and her humor was out of this world," said Chastain. "She sang from the rafters. Everything about her was larger than life, and I celebrate that. I don't make fun of it."
"She had the fearlessness of a drag queen," Ms. Chastain said of Tammy Faye Bakker.
A challenge for Chastain was cutting through overwhelmingly negative and dismissive media portrayals of Tammy Faye to arrive at the heart of a woman known to many but understood by few.
"We had to work on this story from a non-cynical point-of-view because the media only saw her through cynical eyes," she said.
Garfield faced a similar challenge in portraying Jim Bakker, who recently stoked controversy for hawking colloidal silver as a miracle cure for the coronavirus. "I came to [Bakker] with a pretty clean slate, so I was able to go under all the headlines and scandals to start with who he was," said Mr. Garfield, who considered it a formidable responsibility to embody a still-living person. "The intention was always to get as deep as possible into his psyche and his motivations."
Despite Bakker's notoriety as an evangelist, Garfield, who previously portrayed men of faith in "Hacksaw Ridge" and "Silence," does not see this film as a tale of belief. "This isn't really a story of faith for me," he said. "This is a story of certainty gone wrong. Because faith ain't faith if it's certain. As we know if we've read any spiritual text, like the works of Thomas Merton, there's always doubt." The fatal flaw in Bakker's religious messaging, according to Garfield, is his conflation of God's love for humanity with material possessions.
"This isn't really a story of faith for me," said Garfield. "This is a story of certainty gone wrong."
"[Bakker's] certainty with his misinterpretation of this word 'prosperity,' which crops up a lot in the Bible, combined with a fear of emptiness makes us fill ourselves up with external, undependable things, especially with the concept of a Father-God who gives us validation through material wealth," he said.
Jim's fixation on affluence as a sign of God's grace is disrupted when Tammy Faye, possessed of her own convictions and religious opinions, throws a moral wrench into their highly-lucrative operation by challenging powerful evangelical leaders and voicing support for the gay community amid the H.I.V./AIDS crisis.
At a lunch with the Bakkers, Baptist minister and Moral Majority figurehead Jerry Falwell Sr., brought back to life by an intimidating performance from Vincent D'Onofrio, names himself a soldier in the holy war against what he terms the liberal, feminist and homosexual agendas. "The Bible explicitly forbids homosexuality. There's no gray area," he says. Tammy Faye disagrees, and raises eyebrows among the others present. "We're all just people made out of the same old dirt," she says. "And God didn't make any junk." Falwell glares at her.
The Bakkers' television career is imperiled in 1985 when Tammy Faye conducts a live, on-air interview with Steve Pieters, a young gay man living with H.I.V. Through tears, Tammy Faye displays a truly Christian empathy with Pieters, scandalizing the sexually conservative evangelical movement and unwittingly transforming herself into the most unexpected of gay icons. (Take that, Anita Bryant.)
Depressed by the sorry state of her marriage and subsisting on a regimen of Diet Coke and benzos, Tammy Faye eventually divorces Jim Bakker, who is indicted on numerous counts of wire fraud and imprisoned for several years. A subject of frequent parody and derision, Tammy Faye spends the second part of her life as a television actress, reality television star, author and occasional guest at gay pride marches until succumbing to a long battle with cancer in 2007.
Bolstered by meticulously-reproduced sets and a flashy cinematic style, "The Eyes of Tammy Faye" is a darkly funny examination of money-hungry televangelists and an ultimately admiring study of an accidental feminist and holy roller who captured the attention and the belated respect of the American public.
"Tammy Faye lived her life through love and I wanted to get to that place," said Ms. Chastain.