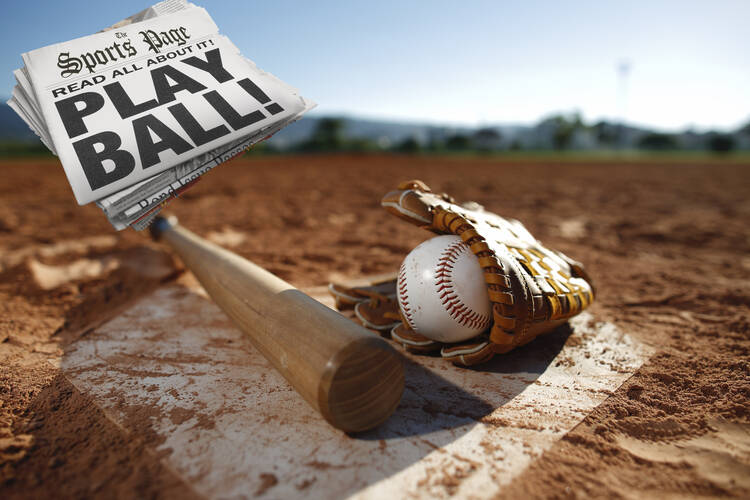 Play ball! Tonight is Game Six of the World Series. It's do-or-die time for the Houston Astros and the second chance in three days for the Atlanta Braves to take home the crown. Most baseball fans (with apologies to St. Augustine) are Manichean in their tastes, and so the World Series often becomes framed as a battle of good versus evil, darkness versus light. That's hard to do this year: One team is almost universally despised as proven cheaters (Is there a single person outside the Houston metropolitan area that wants the Astros to win? Maybe the resurrected corpse of Arnold Rothstein?), and the other is being cheered on nightly at home by 50,000 people gleefully insulting Native American culture with their ridiculous "Tomahawk Chop." Can both teams lose?
America has devoted more words to baseball over the years than any other sport, in part because it is our national pastime and in part because several editors in chief—including the Red Sox fan now occupying the post—were rabid baseball fans, none more so than our 11th leader, George W. Hunt, S.J. Father Hunt also counted among his friends two men who would go on to become commissioner of Major League Baseball, Bart Giamatti and Fay Vincent. Both wrote for America—their contributions to our coverage of the Grand Old Game can be found below. America has also covered the sport from the perspectives of metaphysics (not kidding), Scripture and more.
Where did baseball get its start? Not where you think, writes John W. Miller in his review of Thomas W. Gilbert's How Baseball Happened.
Where did baseball get its start? Not where you think, writes John W. Miller in his review of Thomas W. Gilbert's How Baseball Happened. The idea that the Civil War general Abner Doubleday somehow invented the sport from scratch in Cooperstown, N.Y., in 1839, is about as believable as Jose Altuve denying he cheated (yep, we're sticking with this theme, folks). For as long as it has existed as an organized sport, Gilbert argues, "baseball has been telling weird lies about where it came from." Gilbert writes (and Miller agrees) that baseball was never a rural sport; rather, it originated and blossomed in densely populated urban areas. "Playing baseball in a serious, organized way—with clubs, practices, uniforms, statistics, championships, and umpires—required the abundance, leisure, and freedom of city life," Gilbert writes.
In other words, the sport was a street game before it ever became, to quote Jimmy Breslin, "a sport for hillbillies with great eyesight."
Baseball also had a social purpose, Miller writes. "These early baseball players held onto idealistic visions of improving health and sanity in crowded urban neighborhoods and of establishing a game that belonged to America and not England." Someone who might agree with that perspective is America senior editor J. D. Long-Garcia, who recently argued that baseball has a lot to teach American Catholics about communion and unity.
Baseball was a street game before it ever became, to quote Jimmy Breslin, "a sport for hillbillies with great eyesight."
Bart Giamatti's contribution to America was this 1988 address to the American Society of Newspaper Editors on sportswriting. No one who reads this brilliant (and somewhat scathing) address will come away able to deny that Mr. Giamatti, the seventh commissioner of Major League Baseball and the former president of Yale University, was a master of English prose; he was also a man not given to suffering fools and a scholar well-lettered in classical rhetoric. (He would have hated the Astros.)
Mr. Giamatti was the president of the National League at the time, and he certainly knew his way around the sport—and around the world of journalism: Among the revelations in his essay is that he and his wife subscribed to six daily newspapers. In his speech, Mr. Giamatti took the nation's newspaper editors to task for giving short shrift to what is the most popular section in many newspapers:
In the last year and a half I have had an extraordinary amount of contact with a vast variety of journalists, and I read now on a twice-daily basis reporting on my industry from all over the country. My high-minded and very serious query is: Why do you not pay more attention to your sports sections?
The sports section, Mr. Giamatti noted, often employed a newspaper's best wordsmiths. It was, he said, his "firm impression—here rooted in my own training and former profession—that there are more good writers in the sports section—or more good writing—than in the same proportion in any other section." Further, "more sports columnists write well—logically, clearly, analytically, strongly—than the aggregated national and local columnists elsewhere in the paper write well."
Editors think, he wrote, that the sports section is "the toy department. You believe the rest of the newspaper is serious; this is play. The rest of the newspaper is school; this is recess." Harrumph!
Bart Giamatti: "My high-minded and very serious query is: Why do you not pay more attention to your sports sections?"
Fay Vincent succeeded Bart Giamatti as Commissioner of Major League Baseball in 1989 when Mr. Giamatti died after just five months in office. Mr. Vincent was also a close friend of Father Hunt, and wrote a moving encomium to him for America upon his death in 2011. Mr. Vincent also gave Americaa long interview on the morality of baseball in 2013, when the sport was wracked by yet another scandal involving performance-enhancing drugs. In a transcript of that interview published in America, we can see Mr. Vincent's strong opposition to any violation of baseball's rules, no matter how winked-at they might be:
[A]ll cheating is dangerous and pernicious. I think one of the problems with sports, especially with baseball, is we sort of smiled at spitballs, tinkering with bats. Those seemed to us to be innocent forms of cheating. But it's like saying we're going to permit a little cheating on your income tax. I mean, if you cheat, you cheat; and I think this kind of performance-enhancing drugs is a major form of cheating. It's also illegal. It's violative of the prohibited substance act. The federal statute says, 'You can't be using these drugs without a prescription, you can't be selling them in any event.' I think one of the problems with baseball has been that we've been too tolerant of what we call innocent forms of cheating. There is no such thing as innocent cheating.
Please bear with us a moment, as I am busy mailing a copy of that transcript to Alex Bregman.
Random fact: The aforementioned Bart Giamatti was also the father of actor Paul Giamatti. Among the latter's roles was a brilliant turn as John Adams in the 2008 HBO series of the same name. No doubt Father Hunt got a chuckle out of the fact that in that role, Paul Giamatti said the following of the Jesuits: "Shall we not have regular swarms of them here, in as many disguises as only a king of the gipsies can assume, dressed as printers, publishers, writers and schoolmasters? If ever there was a body of men who merited damnation on earth and in Hell, it is this society of Loyola's."
If you noticed these past few weeks that we have taken a bit of a deeper dive than usual into one author or theme, you're a close reader of America's literary criticism. In this space every week, we will feature reviews of and literary commentary on one particular writer or group of writers (both new and old; our archives span more than a century), as well as poetry and other offerings from America Media. We hope this will give us a chance to provide you more in-depth coverage of our literary offerings. It also allows us to alert digital subscribers to some of our online content that doesn't make it into our newsletters.
Other Catholic Book Club columns:
Happy reading!
James T. Keane