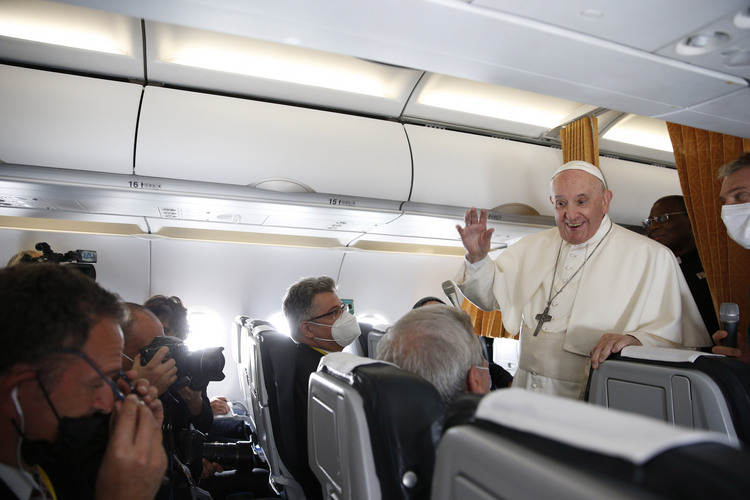 Fresh off the papal plane, Vatican correspondent Gerard O'Connell joins host Colleen Dulle to discuss Pope Francis' response to his question about the U.S. bishops' debate over denying communion to pro-choice politicians.
"Every time the bishops have not dealt with a problem as pastors they have taken sides politically," the pope told Gerry. "What must a pastor do? Be a pastor. Don't go condemning." He added that he had never denied anyone communion.
In the second half of the show, Gerry and Colleen recap the pope's packed visit to Hungary and Slovakia this week and give their takeaways.
At the end of this episode, Gerry described Slovakian President Zuzana Caputova's emotional farewell to the pope. After our recording, local news outlets in Slovakia reported that the president's father had passed away a few hours before the pope's departure.
More on the papal press conference:
Pope Francis: 'I have never denied Communion to anyone.' by Gerard O'Connell
Early Takeaways: Pope Francis on Biden, Bishops, Abortion and Communion by Zac Davis and Ashley McKinless
Pope Francis speaks about abortion and Communion: Don't 'excommunicate' pro-choice politicians by Junno Arocho Esteves – Catholic News Service
Pope Francis said he doesn't understand why people refuse to take Covid-19 vaccines by Nicole Winfield – Associated Press
Gerry's coverage of Pope Francis' trip:
Pope Francis in Budapest calls on the Hungarian Catholic Church and its pastors 'to be builders of bridges and promoters of dialogue'
Pope Francis urged priests to limit homilies to 10 minutes in a speech to religious in Slovakia
Pope Francis to populist leaders: Do not use the cross for political purposes