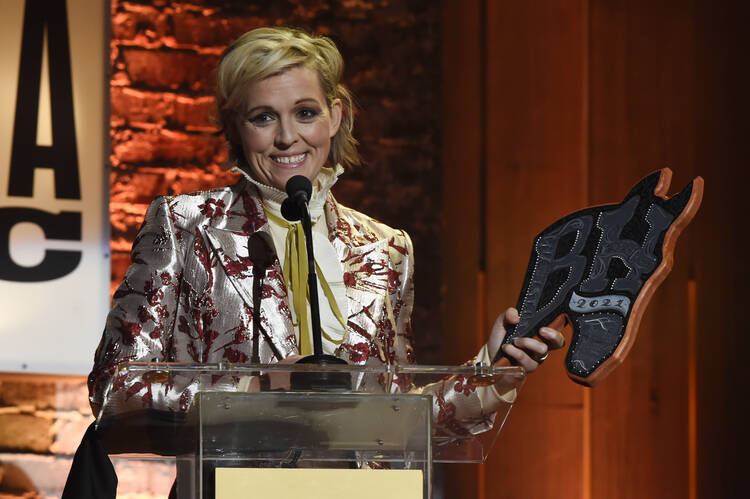 Pope Francis and Brandi Carlile would get along well.
That has been my recurring thought as I have been listening to Carlile's latest album, "In These Silent Days," over the past two weeks. It is a moving collection of 10 tracks that explore the complexity of love—between parents and children, between lovers and even between strangers.
"In These Silent Days" is Carlile's seventh studio album, following her 2017 Grammy-winning album "By The Way, I Forgive You." Her fans have come to expect singularly stunning vocals alongside some delightful songwriting; on both fronts, this album does not disappoint.
If we are willing to engage seriously with Brandi Carlile's music, it can help direct us to the beating heart of the Gospel.
Carlile unifies the album with a keen awareness of the radical nature of tenderness. It's the same tenderness that Francis has so often asked us to adopt as Christians—the tenderness of God, who is always close to and gentle with us. And as the title of the collection suggests, she wants to sing that tenderness into these particular times, the "silent days" of the pandemic.
Carlile is a person of faith herself, but not by a conventional route (if there is such a thing). A 40-year-old gay mother of two children, she experienced plenty of un-tenderness from those around her in her traditional Christian upbringing when she first came out as a teenager. She had no choice but to redefine her relationship to religion: "I feel like I have a deeper spiritual understanding because I have to fight for it," she said in a recent interview.
That spirituality shines in the new album and comes to life through Carlile's breathtaking vocals. "Broken Horses" is a stunner; she sings the opening words in a beautifully controlled screech:
I wear my father's leather on the inside of my skin
I'm a tried and weathered woman, but I won't be tried again
Don't think that you can come for me without your Sunday best
You had better call your priest and hope the devil gets the rest
She doesn't let up over the course of five minutes, leading listeners through a righteous rage against the injustices of her past, particularly those caused by organized religion. As she plows through the song, the imagery becomes even more biblical: "It is time to spit you out like lukewarm water from my mouth/ I will always taste the apathy, but I won't pass it down" (cf. Rev. 3:16).
Carlile's criticism of religion should provoke a question for Christians: What is essential to being a follower of Christ, and what is not?
Carlile makes use of biblical language and stories to criticize organized religion elsewhere on the album as well. "Sinners, Saints and Fools" puts a contemporary face on the parable of the sheep and the goats (Mt. 25: 31-46). The main character of the song is a "God-fearing man," who, troubled by the "winds of change" of today's world, becomes hardened to displaced people seeking help. (Carlile said in an interview with Apple Music that institutional Christianity's worst impact on society has been the neglect of displaced peoples.) The main character in the song makes a sign with these words on it:
You can't break the law
There are reasons for the rules
I keep things safe here for everyone
The sinners, saints, and fools
The poor and huddled masses
Who are hungry and afraid
You gotta do it by the Book and there'll be
No exceptions made
Ironically, when the man dies and stands before the pearly gates, he hears these same words read back to him. An epic, rocking piece of music, it culminates with a fever-pitch instrumental section after the man is turned away from heaven. You can feel this character's descent into hell, and Carlile's message comes across loud and clear: Those who exclude are excluded.
All of Carlile's criticism of religion should provoke questions for Christians: What is really at the heart of the Gospel? What is essential to being a follower of Christ, and what is not?
The eighth song on the album, "Stay Gentle," provides at least a partial answer to those questions. "Stay gentle, keep the eyes of a child," she sings (presumably talking to her own children). "Don't harden your heart or your hands." Once again showing off her biblical imagination, she turns a phrase redolent of the Gospel: "The kingdom of heaven belongs to a boy/ and his worries belong to a man."
This song, perhaps more explicitly than others on the album, feels like Carlile's attempt to name what she has learned during these silent days. In the world of divisive discourse and insane social media wars, stay gentle. In a time of suffering for so many, stay gentle. In the face of harshness and hatred, stay gentle.
Here I see some similarities between Carlile and the way in which Pope Francis has asked us to contemplate the style of God, who acts with "closeness, compassion and tenderness." Far from being a passive response, this gentleness is earth-shaking in its simplicity and humility. To be gentle is, as Carlile puts it, "the most powerful thing you can do."
Carlile's music is not pointless religion-bashing. Rather, if we are willing to engage seriously with her music, it can help direct us to the beating heart of the Gospel.