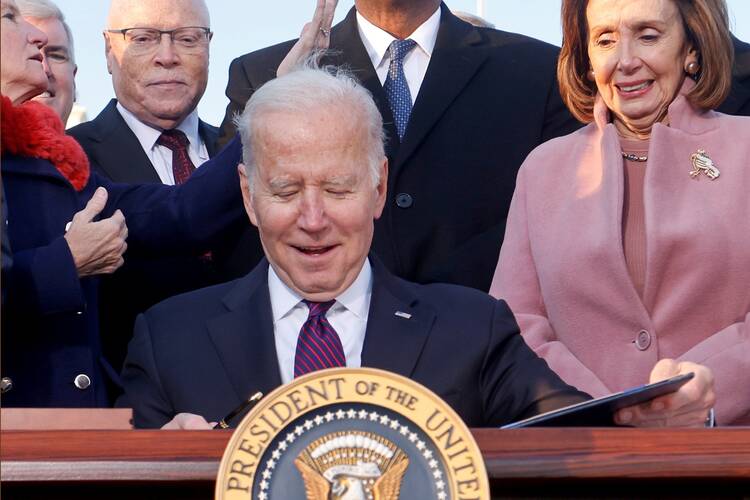 Next month the Upper West Side of Manhattan, where I live, will have its first genuinely competitive congressional election since I was in junior high school, back in the late 1970s. This is happening only because the remapping of New York's congressional districts left two incumbents fighting each other for the same seat. So most of my neighbors, including the young couples I see walking dogs and pushing strollers, will choose between Jerrold Nadler, age 75, who entered Congress in 1992, and Carolyn Maloney, 76, who entered Congress in 1993. (A third candidate, 38-year-old Suraj Patel, is considered a long shot against the two incumbents.)
I'm in my late 50s, well above the median age of 39 in the United States, but elections still make me feel like I'm supposed to shut up and let the grown-ups talk. I have never voted for a president younger than me, and I can't remember voting for a governor or U.S. senator younger than me, at least in a general election. I have voted for younger candidates only in primaries, including then-56-year-old Cynthia Nixon in her hapless campaign against Andrew Cuomo in 2018.
I'm in my late 50s, but elections still make me feel like I'm supposed to shut up and let the grown-ups talk.
So I have sympathy for the people much younger than myself who complain about political leaders past their prime, including President Joseph R. Biden Jr. (79), House Speaker Nancy Pelosi (82), Senate Majority Leader Chuck Schumer (71), Senate Minority Leader Mitch McConnell (80) and Donald Trump (76), the ex-president who wants to get back into the White House. And it is not just the leaders in Congress who are much older than most Americans: After the 2020 election, the median age in the U.S. Senate rose to 64.3 years, the oldest in American history. It is no wonder that the legislative chamber is infamous for its shaky knowledge of new technology it is supposed to help regulate.
And younger voters are getting impatient. Last month, a New York Times survey found that an astounding 94 percent of Democrats under 30 do not want Mr. Biden as their party's presidential nominee in 2024 (compared with 64 percent of all Democrats and 42 percent of those over 65). Among all the respondents who want to replace Mr. Biden, 33 percent cited "age" as the most important reason, just ahead of "job performance" at 32 percent. (Twitter outrage notwithstanding, only 10 percent said Mr. Biden isn't "progressive enough.")
One reason for such dissatisfaction is that younger voters have different political priorities. The Times survey found that older voters were focused on the economy, while younger Americans were just as likely to cite guns, abortion and the "state of democracy" as the most important issue facing the country. In a companion story, The Times interviewed younger voters and got comments like "How are you going to accurately lead your country if your mind is still stuck 50, 60 or 70 years ago?" Juan Flores, a 23-year-old who works for Amazon, suggested that too many leaders also come from privilege: "I feel like a lot of politicians, they already come from a good upbringing.… [They] don't really fully understand the scope of what the majority of the American people are going through."
I can't claim to fully understand myself. I took out student loans in college, but they were in the thousands, not the tens of thousands. I could get through my lean income years sharing apartments in triple-deckers in Boston and paying a few hundred bucks a month. And I didn't have to worry about starting a career or family in a town that might be underwater (or uninhabitably hot) in just a couple of decades. I'm younger than most U.S. senators, but I still come from a different world than most of my fellow citizens.
With so many problems facing the United States right now, it wouldn't be a bad idea for every congressional district to have a Representative Emeritus or two.
Certainly, there are some benefits to having seasoned political leaders. Particularly in the Democratic Party, the seniority system has helped to preserve racial and gender diversity by applying the same criterion to everyone: If you do your job, you keep your job for as long as you want it. This is why so many have been uncomfortable with the suggestions that Supreme Court Justice Ruth Bader Ginsburg should have retired before her death at age 87; that it might have been time for Speaker Pelosi to give up the gavel four years ago, at age 78; or that California Sen. Dianne Feinstein may not be up to the job at age 88. (After all, Strom Thurmond, a man, served until he was 100!)
This reasoning is also why no one will be surprised if U.S. Representatives Alexandria Ocasio-Cortez and Ayanna Pressley, who both ousted 20-year incumbents by arguing they were out of touch with their constituents, are still in Congress 30 or 40 years from now. If the "new generation" of political leaders looks too much like Pete Buttigieg (40) and Ron DeSantis (43)—and there is no reason it should—then even younger voters may think twice about a wholesale change.
In addition, long-serving members of Congress, like Reps. Nadler and Maloney, argue that there are benefits from having leaders with a near-lifetime of knowledge. Pope Francis (who faces his own questions about whether he is getting too old to lead) has frequently reminded us that the wisdom of old age can be a corrective to the "excess of ideology" often exhibited by younger citizens.
But the pope has also said that elders should apply this wisdom toward an "alliance between generations," rather than toward "inertia" or their own survival "at the expense of others." There are plenty of opportunities for veteran political leaders to advise newcomers without hanging on to positions of power for life. And the previous pope may have given us a good path forward: With so many problems facing the United States right now, it wouldn't be a bad idea for every congressional district to have a Representative Emeritus or two.