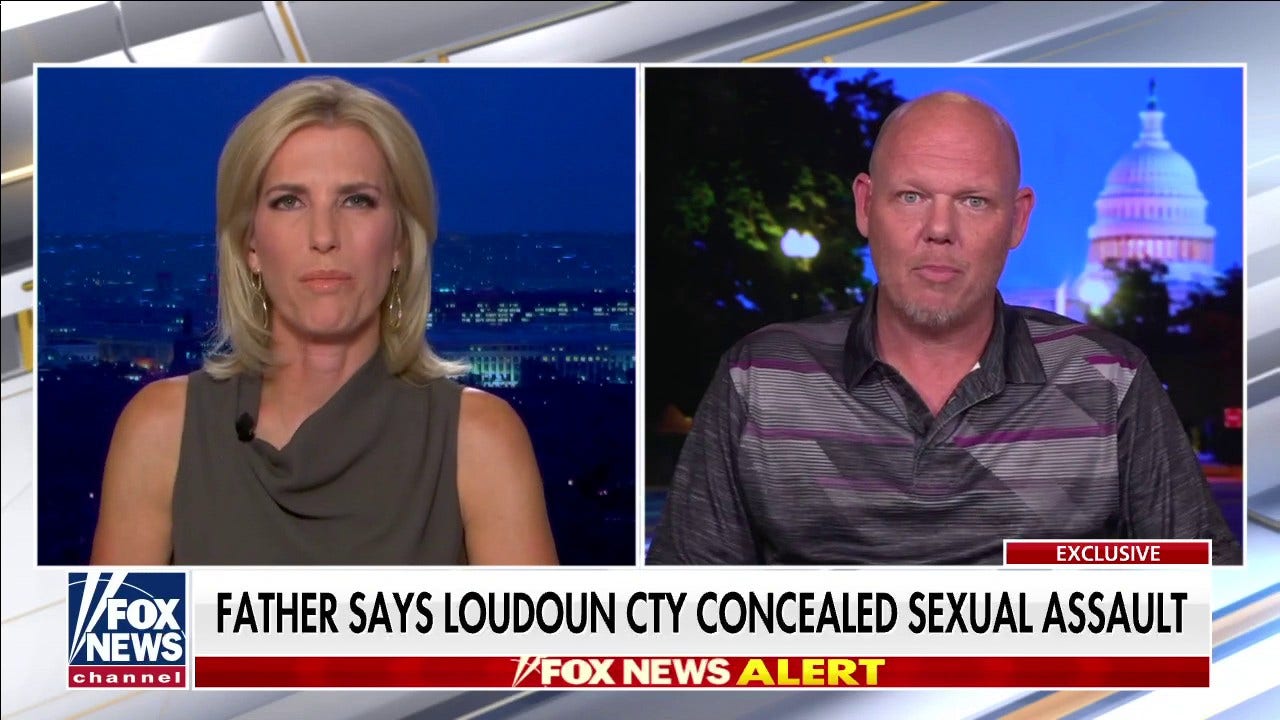 The father of a female Virginia student allegedly sexually assaulted by a biological male wearing a skirt spoke out to "The Ingraham Angle" on Tuesday after months of self-described "silence" since he was pulled out of a June 22 school board meeting by police and later derided as a bigot on social media.
Scott Smith, a 48-year-old plumber, according to the Daily Mail, told host Laura Ingraham he went to the initial June meeting not for any political reason but because he had seen "all this crazy stuff on TV" and was concerned after his daughter had been assaulted.
"I am good with gay people and cross-gender people – anybody who wants to be a good American, I am good with – I went there to find out why our children were not safe," he said. "The next thing I know, another parent-activist approached my wife and starting antagonizing her, and I turned around and said stop."
Smith said he tried to tell the woman how his daughter was assaulted in the restroom at Stone Bridge High School, but the woman persisted:
"She looked me dead in the face and said, 'That's not what happened.' That struck me – how do you know what happened, you don't even know me?"
Smith recounted then being gripped from behind and realized it was a police officer, as he was later tackled.
"I was just shocked. And horrified. I do want to say, though, we support our first responders and our law enforcement. This didn't have to happen. This could have been handled a lot differently," he said.
LOUDOUN COUNTY, VA, PARENTS DEMAND SUPERINTENDENT RESIGN OVER ALLEGED SEXUAL ASSAULTS IN SCHOOLS
Smith said the Loudoun County School Board members at the meeting did not appear fazed by the testimony of Smith and the other parents concerned about issues like allegations of a CRT-infused curriculum.
"I believe they had full intentions on trying to shut that thing down early. Every time we clapped or supported somebody, we got scolded for it. Why aren't we allowed to clap or… boo? Everybody has their own opinion. Why can't everybody just get along and discuss our differences?" he wondered aloud, adding that the board members likely saw the meeting as "a joke."
Later in the interview, Ingraham reported that a teenager from Ashburn, Virginia, has since been charged with sexual battery and abduction at another area high school. While the name cannot be released because the suspect is a juvenile, Smith said that individual is the same one who allegedly assaulted his daughter earlier this year.
"We were under the impression from the prosecutor that this sexual predator was being held on in-house arrest with an ankle monitor and would not return to school until these court sessions were done. You are innocent until you are proven guilty – I understand that. But we have to protect everyone at the same time," Smith said.
LOUDOUN COUNTY, VA, FATHER ARRESTED AT SCHOOL BOARD EVENT SAYS SCHOOL TRIED TO COVER UP DAUGHTER'S BATHROOM ASSAULT
However, in the interim, Smith had been informally advised to remain quiet about the allegations in hopes of a positive outcome or prosecution.
"I was told by everyone, my attorneys, the prosecuting attorney, friends of the family, people I don't even know, that if I wanted justice for my daughter, I needed to keep my mouth quiet and not speak out because in order to get justice for my daughter, which is the most important thing to me, of course, was to not come out and let justice prevail," he said.
"It was my decision not to speak out. Nobody muzzled me, but I was told if I wanted justice for my daughter and wanted this case to have a finality and a possible conviction, that I had to stay quiet."
Smith told Ingraham he remained quiet about the situation until last week, when a text message to his wife alerted the couple that a juvenile had been arrested and was rumored to be the same one allegedly involved in the assault on his daughter.
"Within half an hour, it was confirmed that yes, this did happen. I basically said that's it. I won't stay quiet anymore," he said.
Regarding a letter penned by Attorney General Merrick Garland regarding focusing on incensed parents at school board meetings, Smith called that action by the Justice Department "scary."
"That's really scary that our government will weaponize themselves against parents and using my video across the nation to spread fear. That's wrong. I am not a bully. I am not a racist. I love everyone. I love this country. I want better stuff for it," he said.
In regard to the alleged assault on Smith's daughter, the Loudoun County Sheriff's Office told Fox News that a May 28, 2021, case involving a "thorough 2-month-long investigation that was conducted to determine the facts of the case prior to arrest."
"This case is still pending court proceedings. The Loudoun County Sheriff's Office is not able to provide any documents that pertain to a pending case." The sheriff's office confirmed that the case involved sexual assault.
All juvenile records are sealed, but Smith's attorney Elizabeth Lancaster told The Daily Wire that the boy was subsequently charged with two counts of forcible sodomy, one count of anal sodomy, and one count of forcible fellatio.
In response to a public records request by The Daily Wire, the Loudoun County Sheriff's Office confirmed that a May 28 report with "Offense: Forcible Sodomy [and] Sexual Battery" at Stone Bridge High School does exist.
The suspect was arrested two months later following an investigation by the sheriff's office.
Minutes before Smith's arrest at the June 22 board meeting, Loudoun County Public Schools (LCPS) Superintendent Scott Ziegler declared that "the predator transgender student or person simply does not exist," and that to his knowledge, "we don't have any record of assaults occurring in our restrooms," The Daily Wire reported.
On Oct. 6, at another school, a 15-year-old boy was charged with sexual battery and abduction of a fellow student, the sheriff's office reported. The boy allegedly forced a female victim into her empty classroom where he held her against her will and inappropriately touched her. Reports connect the two assaults, although police have not confirmed to Fox News that they involve the same male student.
"These incidents were reported immediately to the Loudoun County Sheriff's Office, and LCPS cooperated fully with the investigations," a spokesperson for Ziegler told Fox News. "Any information related to student information is confidential under state and federal laws regarding student privacy."
Many of the estimated 60 parents at a school board meeting in the suburban Washington, D.C., county on Tuesday evening called for Ziegler to resign.
Fox News' Tyler O'Neil and Jessica Chasmar contributed to this report.