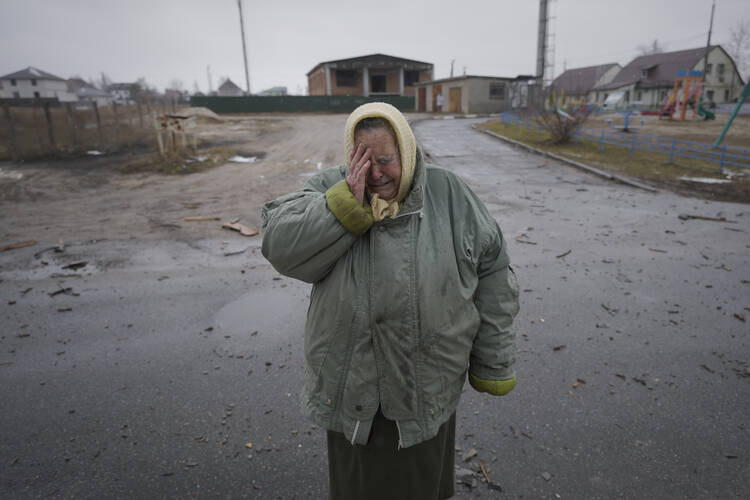 A Reflection for the Thursday after Ash Wednesday
"Moses said to the people:
'Today I have set before you
life and prosperity, death and doom.
If you obey the commandments of the LORD… you will live and grow numerous,
and the LORD, your God,
will bless you in the land you are entering to occupy'" (Dt 30:50).
"If anyone wishes to come after me, he must deny himself
and take up his cross daily and follow me.
For whoever wishes to save his life will lose it,
but whoever loses his life for my sake will save it" (Lk 9:23).
Reading the opening words of today's first reading, it's hard not to think of the war in Ukraine. Death and doom are indeed before us. As I write this, Russia is escalating its attacks on civilian targets, and the threat of nuclear war weighs on the world.
Choose life and love the Lord, Moses exhorts the Israelites, and "that will mean life for you, a long life for you to live on the land" God has promised you. It is a logic that seems very distant, even empty, as we witness men and women fighting and dying in a war they did not choose. We know that in war and in times of peace there is no guarantee that the just will prosper, that the innocent will be blessed in their land. At least not by the logic of our fallen world.
Reading the opening words of today's first reading, it's hard not to think of the war in Ukraine. Death and doom are indeed before us.
Jesus, of course, offers us a different logic, though logic is probably not the right word. He shows us a path, a way to follow, that at first glance does not seem appealing but in a way rings true. Take up your cross daily, he says. Who can look at the world right now or their own life and deny that there are more than enough crosses to bear? Or that fighting for what is true and just often requires great sacrifice, and that even those sacrifices might not be rewarded in this life?
And yet this path that Jesus gives us is not one of death and doom if we believe his promise to us. Because God promises not only to be with us when we pick up our daily crosses but that this path leads to something much greater than prosperity in this life: eternal life with God.
Now that sounds appealing. But do I really believe it? I say I do every week at Mass. But it can be easy to forget or to doubt as I look at the senseless suffering in Ukraine and around the world and wonder what this is all for, if the sacrifices are worth it. I hope they are. "Blessed are they who hope in the Lord," the psalmist says today. So maybe for now hope is enough. And as I stumble along the path Jesus has tread before us this Lent, I will seek to kindle that hope by remembering each day where this journey ends and that Christ always keeps his promises.
Get to know Ashley McKinless, executive editor and co-host of Jesuitical
1. What are you giving up for Lent?
I'm committing to (at least) one week-day Mass per week and giving up my standard: sweets.
2. Do you cheat on Sundays?
No. This was especially trying as a child when it seemed Girl Scout cookie season always overlapped with my chocolate-free Lents. Thankfully, Thin Mints freeze well.
3. Favorite non-meat recipe
I know it's not spring yet, but I eat this Spaghetti squash primaveraall year round.
4. Favorite Lenten hymn
I love the hymn "Come Thou Fount Of Every Blessing." I know some consider this more of an Advent/Christmas song, but the story behind its creation touches on the Lenten themes of conversion and turning back to God.