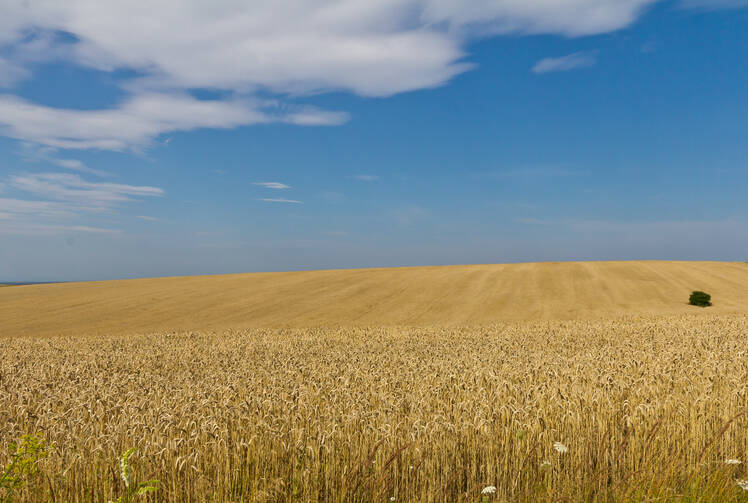 In my father's living room, amid family photos, a hand-painted icon and the embroidered rushnyk that belonged to my grandmother, there is a small glass bowl half-filled with black earth. This is soil from Ukraine. Of the many things my dad passed on to his children, a reverence for this identity and the strong faith and spirituality that it nurtured in us is his greatest legacy.
My dad—George Drance Sr.—was instrumental in bringing the Lions Club International to Ukraine shortly after the 1991 referendum establishing the nation's independence. The first club was formed in, of all places, Donetsk, an area where Russian intervention would first penetrate the country more than two decades later. When his friends there asked what they could give him in return for his help, my dad asked simply for this little bit of earth.
For the Ukrainian people, that is how alive the land is. Picture a field of golden wheat and a vibrant blue sky above it. That is the flag: the colors intentionally chosen to remind us that we are of the earth. The great poets of 19th-century Ukraine express this connection to the land. It is fertile and generous, called "the breadbasket of Europe" for centuries. Perhaps this is why Ukraine has been coveted by so many empires for so long. Perhaps this is why the Ukrainian people would rather die protecting it and their freedom than see it seized by an evil man who could not possibly understand it. The memory of how, in 1933, Stalin starved 10 million Ukrainians in order to seize their land for collectivization is not forgotten.
For the Ukrainian people, there is no contradiction in maintaining the land while being, at the same time, an intellectual, or an artist, or an innovator.
For the Ukrainian people, there is no apology for being close to the land, no shame. There is no contradiction in maintaining it while being, at the same time, an intellectual, or an artist, or an innovator. Pretense does not live here.
I wish I could say the same of the current aggressor. He is one in a long list of pretenders. Muscovite czars began claiming the legacy of Kyivan-Rus' when Ivan III appended his title as "Grand Prince of Muscovy" to include "Grand Prince of all Rus'." Eventually the czars' delusions were ossified when Muscovy changed its name to Russia, falsely laying claim to the legacy of Rus'.
Greatness is often self-proclaimed. It is often a lie. And those who claim it proliferate even more lies to hold on to it. The current aggressor even claims that Bolshevik Russia "created" Ukraine. This could not be farther from the truth.
Kyivan-Rus' stretched from the Black Sea to the Baltic from the 9th to 13th centuries and had its capital in Kyiv. Kyiv influenced the intellectual history of all of Europe with rulers like Olga, Volodymyr and Yaroslav (author of the Rus'ka Pravda—a codex of law that predates the Magna Carta). It is no wonder that others would want to expropriate this history as their own.
Growing up Ukrainian formed me. All four of my grandparents were born there, though at the time of their birth it was occupied by another empire, Austria-Hungary. They moved to New York. Their children, my parents, met at the Ukrainian Catholic Youth League. My siblings and I were raised on Long Island. We attended St. Volodymyr Ukrainian Catholic Church. We still keep the Christmas and Easter traditions today, the songs, the prayers and the food, all lovingly handed on to us, as we hand them to the next generations.
In the year 988 when St. Volodymyr, prince of Kyivan-Rus', embraced Christianity, it was because his emissaries attending liturgy in Constantinople could not tell if they were on earth or in heaven.
This identity was often misunderstood by those around us. My dad's first black eye was from a grade school fight caused by a classmate, whose grandmother was from another part of Austria-Hungary, throwing a derogatory ethnic slur at him. Others, from my own teachers in grade school to some of my current colleagues, would call us Russians. When I correct them, insisting that I am Ukrainian, often they reply with a brusque "same thing." The denial of Ukrainian identity was so widespread that, in order to counterbalance it, a speaker at our church once told us that if ever we had to fill in a form that asked for race, we should check "Other" and write in "Ukrainian."
My faith life and my spirituality were ignited by the liturgy at St. Volodymyr's. It is reported in the year 988 when St. Volodymyr, prince of Kyivan-Rus', embraced Christianity (when the church was still whole, East and West together) it was because his emissaries attending liturgy in Constantinople could not tell if they were on earth or in heaven. The mosaics and icons, the poetic prayers and deep feeling of the Liturgy of St. John Chrysostom, and the communal chanting of it instilled in me a sense of both transcendence and immanence.
These experiences prepared me to embrace the spirituality of St. Ignatius when I became a Jesuit. Ignatius' application of the senses in contemplation, and his reminder that a spiritual reality ought to be "sensed" and "tasted," fit well with a liturgical experience that was so embodied in the senses.
As an actor I was formed by Ellen Stewart, the founder of La MaMa ETC, a dear friend of the Ukrainian community. Ellen's vision is that we are all one. She had a reverence for the particularities of each person and believed in our connection as one human family. Working with Ellen took me all over the world, even to places where local conflicts were not all that different from the current conflict in Ukraine, performing with artists in places like Guatemala, Cambodia and Kosovo. Experiencing the resilience of these people in the face of tyranny gave me hope. I see the same hunger and thirst for justice in the people of Ukraine at this present moment.
I'm currently playing Agamemnon in an adaptation of "The Oresteia" set in the Balkan Wars. Living inside the psyche of a self-proclaimed commander is exhausting. It is a trap that closes in on itself. I pity him.
I recently attended a rally in Times Square, the heart of the theater district. People, all from different backgrounds, added their voices to protest the invasion. A woman next to me was on a video call with her family in Ukraine. It raised their spirits to see such an outpouring of support and solidarity. There were speakers, singers and rallying cries like "Stand with Ukraine" and "No more war." Near the close of the rally there were prayers and recorded music of a special litany of prayer.
Ukrainian church music always brings tears to my eyes. It has a soulfulness. Beauty, sorrow, joy and strength are all crushed together in the harmonies of these songs. I remembered a hymn from the Good Friday service. It expresses the experience of the Bohorodytsy, the "Mother of God" as she stood by the cross:
O my Son, where has the beauty of Your form gone?
I cannot bear to look upon You crucified unjustly.
Hasten, then, to arise,
that I, too, may see Your Resurrection from the dead on the third day.
This is where I find my faith today. Standing beside the crucified. Refusing to allow the lie that death has the final word. Looking to our Mother as an example of faith. Crying out, "Hasten, then, to arise."