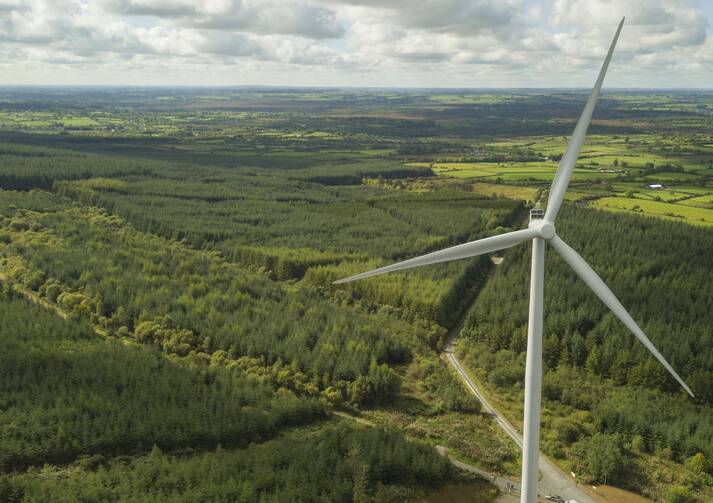 Movies set in Ireland rarely omit the trope of the aerial shot of rolling green fields. After all, it is the Emerald Isle.
Or is it?
There are, of course, many initiatives that support the assumption that Ireland is green not just chromatically, but also politically. A generation ago, with massive public support, the Irish government banned nuclear power development, largely on the basis of the failure to develop an adequate process for responsibly disposing of radioactive waste materials; in 2002, Ireland was ahead of the curve in introducing a levy on plastic bags; and three years ago, it was the second country to declare a climate emergency.
But, despite these greenish indicators, Ireland's overall ecological credentials are not nearly so strong. In 2020, it was one of the worst performing developed countries in the world at responding to the global climate and biodiversity emergency, landing 39th out of 57, according to the 2020 Climate Change Performance Index. This year, it dropped a further seven spots in that ranking.
Movies set in Ireland rarely omit the trope of the aerial shot of rolling green fields. After all, it is the Emerald Isle. Or is it?
Government leaders admit this is a dire situation. Ireland's then-prime minister Leo Varadkar frankly admitted in 2018 that Ireland was among European Union "laggards" on this issue.
A 'Green Wave' Rising
The Irish State marked the centenary of its founding last December. It would take a keen eye to discern an environmental consciousness in the debates of those first parliaments. Yet the environment is a central concern of the nation's politics today. This is, in part, down to the vocal protests by Ireland's young people.
The Fridays for Future Ireland campaign has gathered outside Dáil Éireann, Ireland's parliament, and other regional government locations each Friday for over 150 consecutive weeks. They have led mass protests of tens of thousands of people across the country.
The impact of this campaign has been significant. Brian Leddin is a member of Parliament—known as a "T.D." here, for Teachta Dála—representing Limerick city. He is also the Green Party spokesperson on transport, climate action and the environment. He thinks that once Ireland's young people got organized, "the whole discussion changed."
The enthusiasm of Ireland's young people for care of creation is such that "climate change is now one of the top five issues for the electorate, and that certainly wasn't the case three years ago."
Mr. Leddin first noticed it in door-to-door electioneering in his first campaign, which was not expected to be successful. "You know; the enthusiasm we were getting on the door was so unexpected in those last few weeks…. It was coming from the Fridays for Future movement." Although they are too young to vote, the teenagers made the issue relevant for their parents and older relatives. Mr. Leddin was elected to the city council in 2019 and to Parliament the following year.
Back to the Grassroots
Jane Mellett is the Laudato Si' Officer at Trocaire, the Irish bishops' international development agency. She said that youth activism has been central in compelling official Ireland to begin to confront its poor environmental record, adding that "political parties are seeing this generation of voters coming quite quickly down the road."
Their enthusiasm for care of creation is such that "climate change is now one of the top five issues for the electorate, and that certainly wasn't the case three years ago."
This growing enthusiasm is present in the church as well. Pope Francis called Christians to an ecological conversion in 2015, and many Irish parishes are responding to the call.
Bishop Larry Duffy of Clogher calls it a priority at the national level of the church but says that parishes are engaging with it differently, depending on their local context. What is true of all is that "we're waking up to the fact that we are on a course that's done a great deal of damage."
Bishop Larry Duff: "We're waking up to the fact that we are on a course that's done a great deal of damage."
Irish environmentalism had its beginnings in grassroots initiatives concerned with local conservation questions, which arguably remains the beating heart of the movement. The largest environmental networks in the country comprise the TidyTowns initiative, which is often informally aligned with the local parish and the ecumenical Eco-Congregation Ireland network, explicitly rooted in the churches. If Ireland is to live up to its Emerald Isle reputation, the local church remains one of the most fertile sites for extending the energy shown by Friday for Future activists across broader society.
Mr. Leddin certainly recognizes this potential. He recounted that some of his strongest supporters are Salesian sisters in Limerick, who, before he ever even held elected office, invited him to visit to explain the climate crisis to them. He noted that when groups that are deeply respected in their area are vocal about care of creation, people take notice. "People like my 82-year-old mother," said Mr. Leddin, would have joked with him in the past about his environmentalism but changed their tune when spiritual authorities like the Salesians weighed in. "When the nuns are endorsing it, it's like, 'Oh, you're absolutely right!'"
The Source for Change
While Ireland's measured progress on climate change and biodiversity loss remains poor, there are clear ambitions to change direction. The coalition government, which now includes Mr. Leddin's Green Party, has published a Climate Action Plan that commits Ireland to a 51 percent reduction in greenhouse gas emissions by 2030.
Contentious questions remain, including about the role of beef farming in Irish agriculture, the centrality of private car ownership for transportation and the cost of retrofitting homes to be more climate resilient. But there is a sense that every political party is now taking the crisis more seriously.
Whether action will follow remains an open question, according to Fridays for Future activists. Josh Curran is a student in Belvedere College, a Jesuit secondary school in Dublin. He is a regular participant in the Fridays for Future protests.
Contentious questions remain—the role of beef farming in Irish agriculture and the cost of retrofitting homes—but there is a sense that every political party is taking the crisis more seriously.
"We have been given this problem that we didn't create that we now have to solve," he said. As he understands it, making his voice heard as best as he can is a responsibility and an essential component of securing serious environmental change.
Mr. Curran is still too young to vote, but he is convinced that his engagement is making a difference. His school sees his activism as an expression of the ethos of a "faith that does justice" and he said he has received "great feedback" from his peers and his teachers. He has no doubt that the movement he is a part of has the stamina to bring about real change: "As long as we don't get change, we'll be out here every Friday," he said.
Change remains slow. For every step forward, like the expansion of high-speed commuter rail services in Dublin, there appears to be a step backward, like the development of an expensive ring road without access for the public for walking or cycling in the west coast city of Galway. Such contradictory commitments exasperate Mr. Curran, who insists that his generation needs to see more action. "Show us what you do, not tell us."
The Fridays for Future movement might easily be disregarded. Teenagers are notoriously fickle. Cynics suggest they are motivated by a few hours off classes, not by the hope of making a large contribution to the common good.
But such skepticism falls away on a frigid December day as young people try to engage passersby who appear much more interested in Christmas shopping than discussing biodiversity. Such small, local efforts gather an undeniable momentum when replicated in cities and towns across the country and around the globe.
To change the world, it is best to start in your own parish. The Irish State may not move fast enough to live up to its bold promises, but the future is bright when activists like Mr. Curran—in many cases explicitly informed by and in dialogue with Catholic social teaching—are so committed to holding their elders to account.