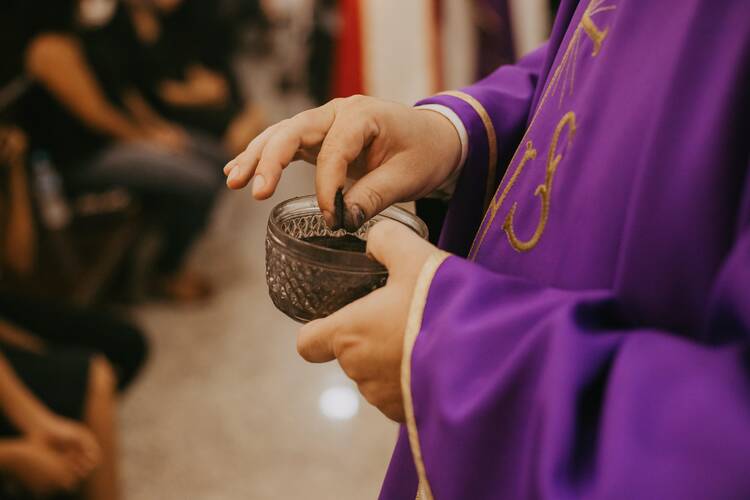 Editors' note: This article originally appeared in the Feb. 27, 1982 edition of America.
In some circles it's considered bad form for an editor to take issue with one of the contributors to the magazine. But I've never been much impressed with the demands of that particular propriety. After all, this is supposed to be a journal of opinion, and the editor has been known to have a few opinions of his own. (Lord, give me this day my daily opinion, and forgive me the one I had yesterday.)
I would like to distance myself, as they say these days, from the position of Father Frank Moan, who argues later in this issue, that it's time "to do away with Lent." Father Moan is disappointed that his Lenten liturgies are better attended and therefore, he admits, better prepared than most other celebrations. Ascension Thursday and All Saints Day get short shrift by comparison, yet Father Moan thinks the theology behind these observances may be sounder than that which motivates so many to come not only for the ashes and the palms but to stay around for the penance and the fasting.
Desk-bound presbyter that I am, I yield to the greater pastoral experience of others, and I possess no special competence in liturgy. In fact, I must admit that I even find certain professional liturgists rather off putting in the actual celebration of the mysteries (all that unctuous smiling and rambling improvisations). The fault is mine, but still I do hope the pastoral and liturgical experts are not going to take Lent away from us.
I do hope the pastoral and liturgical experts are not going to take Lent away from us.
Some weeks ago, Andrew Greeley pointed out in these pages that much of the dislocation among Catholics after the second Vatican Council was due to the loss of one system of cherished symbols and the failure to yet develop an adequate replacement. Now it seems to me that the symbols of Lent have not been discredited by the reforms of the council but have been rather reinforced. Is not Lent a time to recover a sense of personal identity as a Christian precisely by entering into the central mystery of Christian existence, the death and resurrection of Jesus?
It may be true that many Catholics who ptill themselves together a bit more during Lent do not fully appreciate how much its traditional rigors must be understood in the context of the Resurrection. Perhaps the middle-aged curmudgeon who annually gives up martinis and cigarettes would feel a little self-conscious dancing into Mass on Sunday singing, "We are an Easter people, and alleluia is our song!" But, as we say in New York City, he's entitled. Not every adult Christian need thrill to the balloons and butterflies school of celebration. The Gospel does, after all, have more disturbing things to say than, "I'm OK, you're OK, we're OK."
Some of the popular devotion to Lent may be, of course, influenced by a large measure of nostalgia or a desire for magical conversions or even a morbid preoccupation with sin. But I think most people are on to something very sound when they approach Lent as a time to get some of the clutter out of their lives, to silence some of the jangle in their hearts and to awaken that seasonal hunger that can remind us who we really are and what it is we truly want.
And at a time when circumstances for many Americans have become more bleak at home and more dangerous abroad, when unemployment and nuclear weapons sound the notes of despair and dread in our land, many Catholics too may find the sober lessons of Lent, the lessons of redemption, of finding life after death and out of death, more instructive than ever this year.