Sen. Marco Rubio (R-Fla.) and retired Lt. Col. Alexander Vindman have called on Joint Chiefs of Staff Chairman Gen. Mark Milley to lose his job over alleged secret calls to China amid concerns about former President Donald Trump.
Peril, an upcoming book by Bob Woodward and Robert Costa, alleges that Milley made two calls to his Chinese counterpart Gen. Li Zuocheng—one days before the 2020 election and the other days after the January 6 insurrection at the Capitol—over fears that Trump's actions could start a war, according to The Washington Post.
Rubio sent a letter to President Joe Biden on Tuesday demanding that he fire Milley "immediately" for working to "actively undermine" Trump.
"[Milley] worked to actively undermine the sitting Commander in Chief of the United States Armed Forces and contemplated a treasonous leak of classified information to the Chinese Communist Party in advance of a potential armed conflict with the People's Republic of China (PRC)," wrote Rubio. "These actions by General Milley demonstrate a clear lack of sound judgement, and I urge you to dismiss him immediately."
"General Milley has attempted to rationalize his reckless behavior by arguing that what he perceived as the military's judgement was more stable than its civilian commander," he continued. "You must immediately dismiss General Milley. America's national security and ability to lead in the world are at stake."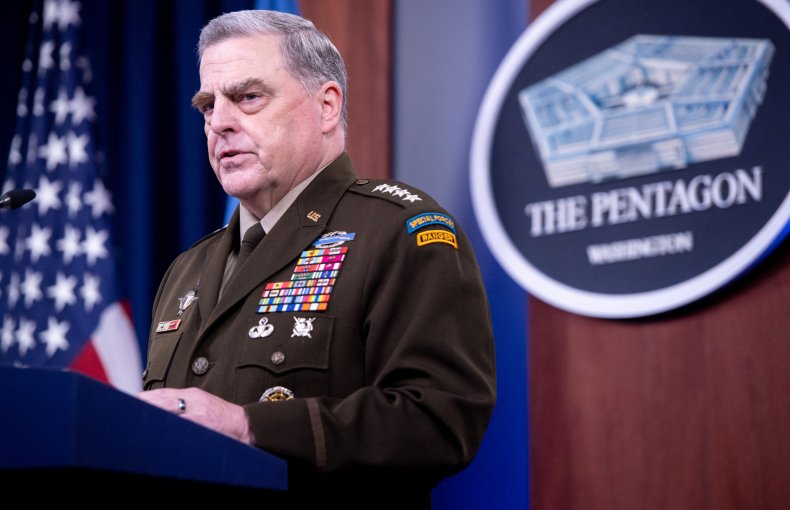 Vindman, a key witness in Trump's first impeachment who the former president later called "very insubordinate," said in a tweet that Milley should resign if the alleged phone calls took place. Vindman argued that the alleged phone calls "set an extremely dangerous precedent" that "you can't simply walk away from."
"If this is true GEN Milley must resign," tweeted Vindman. "He usurped civilian authority, broke Chain of Command, and violated the sacrosanct principle of civilian control over the military."
Peril reportedly alleges that on October 30, 2020, Milley called Li after becoming concerned by intelligence reports the indicated China believed that the U.S. was preparing a military strike. The general reportedly assured his Chinese counterpart that no such attack was planned and that if one were on the way it was "not going to be a surprise" because he would call "ahead of time."
The second alleged call reportedly took place on January 8, 2021, shortly after Milley had received a call Speaker of the House Nancy Pelosi (D-Calif.), who argued that the Capitol insurrection was evidence that Trump was "crazy." Milley reportedly feared that the former president would launch a nuclear strike and told Pelosi that he agreed with her before calling Li to say that the U.S. was "100 percent steady" and that the situation was "fine."
Trump told Newsmax on Tuesday that Milley's reported promise to warn of an impending attack was "treasonous," while insisting that he "did not ever think of attacking China." Milley, who previously served as chief of staff for the Army, became the Joint Chiefs of Staff chairman in 2019, having been nominated to the position by Trump during the previous year.
Newsweek reached out to the White House and the office of the Chairman of Joints Chiefs of Staff for comment.