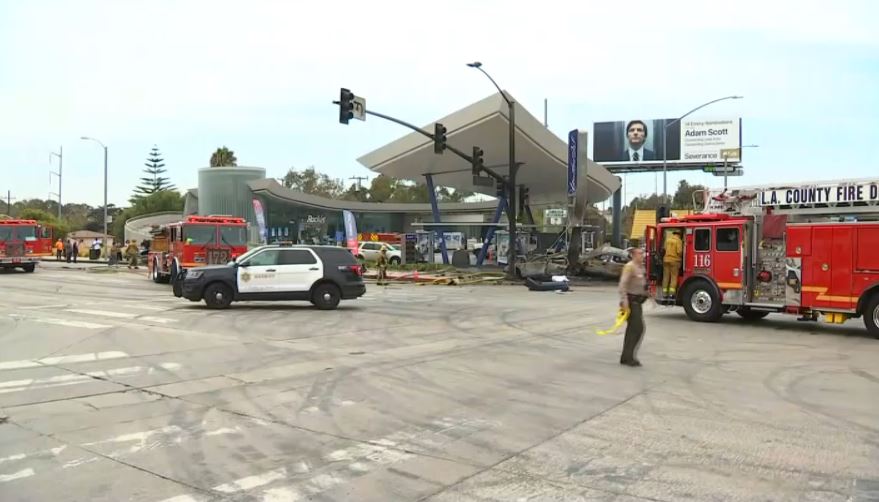 At least 5 people, including a pregnant woman, were killed in a fiery crash involving at least six cars at an intersection in Los Angeles' Windsor Hills area.
Shocking new surveillance footage of the crash shows a seemingly normal intersection, with the flow of traffic going at a reasonable pace, before a black Mercedes comes plowing through a red light like a rocket.
The crash was reported just before 2 p.m. at La Brea and Slauson avenues. The CHP said four to five people, including a baby and pregnant woman, were killed in the crash and fires.
At least eight people were injured and transported to a nearby hospital after a fiery crash left at least six people dead. Robert Kovacik reports for the NBC4 News at 11 p.m. on Aug. 4, 2022.
Nine people total were injured.
One person declined transportation to the hospital. Eight others were taken to the hospital for their injuries.
Six children and one adult suffered minor injuries. The youngest of those children was just 13 months old, and the others were ages 8, 11, 13, 14 and 15, according to the CHP and the Los Angeles County Fire Department.
Those patients were reportedly "in good condition" and discharged Thursday night
A second adult, the 40-year-old driver of the Mercedes, had major injuries, authorities said. Multiple sources told NBC4 on Thursday night that that driver is a nurse, believed to be from outside Southern California.
The eighth patient, according to UCLA health on Thursday night, remained under evaluation and was in fair condition.
The five dead were declared so on the scene. Their ages have not yet been confirmed, and aside from the pregnant woman their genders are also unknown.
At around 8 p.m. CHP gave an update that an additional body was found in one of the vehicles that had been engulfed in flames, increasing the fatality count to six; however, that total count of six from the CHP included a fetus.
At least four people, including a baby and pregnant woman, are killed in a fiery crash involving up to seven cars at a Windsor Hills intersection. Alex Rozier reports for the NBC4 News at 3 p.m. on Thursday Aug. 4, 2022.
Two of the three burned cars came to a stop under a fuel station sign. Another appeared to have rolled onto its roof near the gas station entrance in the community about 10 miles southwest of downtown Los Angeles.
Video from a witness showed a column of black smoke rising form one of the cars.
Another witness said one of the drivers appeared to be making a left turn before the crash.
"Those two right there exploded, just fire everywhere," the witness said.
Debris was scattered in the intersection, where several ambulances were staged.
NBC4 asked the CHP if the driver of the Mercedes was under the influence when the crash occurred. The CHP stated that she was initially given so much pain medication that a proper drug evaluation on-site would not have been possible.