There were "no discoveries" after Chris Laundrie accompanied law enforcement officials to search Florida's Carlton Reserve for his son, Brian, the family's attorney said Thursday.
"Today Chris Laundrie accompanied members of law enforcement into the Reserve to show them the trails and places Chris and Brian have hiked and which Brian was known to frequent," the Laundrie family attorney, Steven Bertolino, said in a statement sent to Newsweek. "There were no discoveries but the effort was helpful to all."
According to the statement, some areas of the Carlton Reserve have become easier to search since water has receded.
The statement continued: "The entire Laundrie family is grateful for the hard work of the dedicated members of law enforcement that have been searching the Preserve for Brian over the last few weeks. Hopefully Brian will be located soon."
Laundrie's parents have told law enforcement officials that they last saw their son on September 13 and they believe that he went for a hike in the Carlton Reserve.
The Carlton Reserve has been closed to the public, including the Laundries, for the past three weeks as officials continue to search for Brian.
In a statement previously provided to Newsweek, Bertolino said, "Chris was asked to point out any favorite trails or spots that Brian may have used in the preserve….The preserve has been closed to the public and the Laundries as well but the parents have been cooperating since the search began."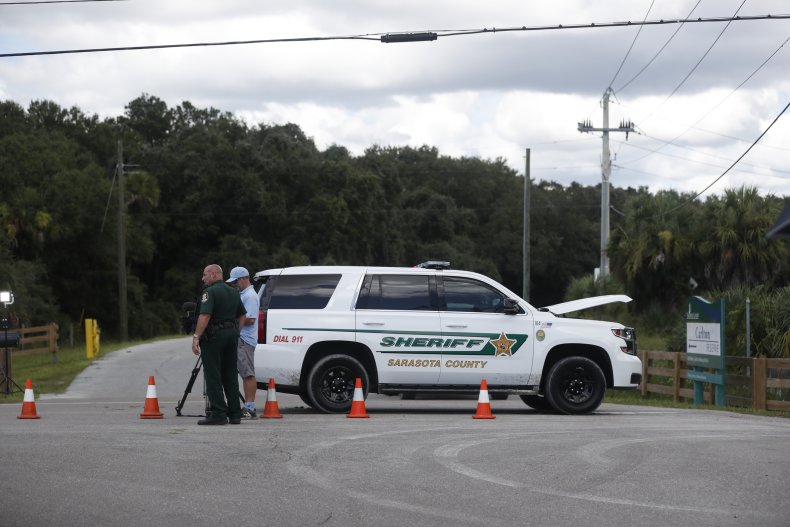 Brian Laundrie was previously named a person of interest in the disappearance of his fianceé, Gabby Petito, who went missing while the two were on a cross-country road trip.
Laundrie returned to his parent's home in North Port, Florida, 10 days before Petito's family reported her disappearance to the Suffolk County Police Department on Long Island.
Petito has since been found dead and her manner of death was ruled as a homicide. The final autopsy results have yet to be released and the FBI has not released any information on the exact cause of her death.
A federal arrest warrant for Laundrie was issued by the U.S. District Court in Wyoming, accusing him of bank card fraud. While the warrant, which was issued on September 23, did not explicitly connect Laundrie to Petito's murder, the FBI in Denver said: "While this warrant allows law enforcement to arrest Mr. Laundrie, the FBI and our partners across the country continue to investigate the facts and circumstances of Ms. Petito's homicide."
While the federal arrest warrant did not specifically state whose bank card Laundrie illegally used, the Petito family lawyer, Richard Stafford, recently claimed that Laundrie stole Gabby's credit card and used it "to get home, and then ran from the police."
"I don't know what story he's going to try to tell, but it's not going to make any sense when you put it together with his actions from that moment forward — that he's running, that he's hiding, that he's trying to deceive everybody around him," Stafford said during a recent interview with the Dr. Phil show.
Prior to Laundrie's disappearance, he refused to speak with police, following advice from Bertolino.
Updated 10/07/2021, 4:05 p.m. ET: This story has been updated with additional information.