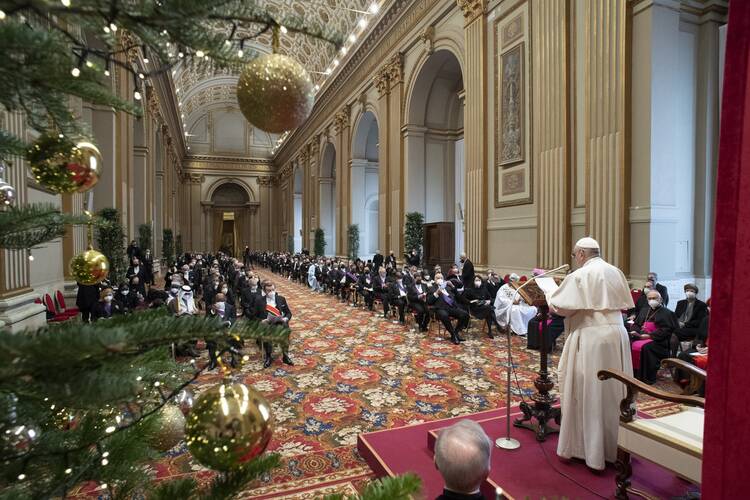 Pope Francis addressed ambassadors from the 183 countries that have diplomatic relations with the Holy See about his top international priorities on Monday and, surprisingly, devoted a portion of his talk to the problems he sees with "cancel culture."
This week on "Inside the Vatican," host Colleen Dulle and veteran Vatican correspondent Gerard O'Connell take a look at the pope's talk and why he thinks cancel culture is a threat to international cooperation.
[Listen and subscribe to "Inside the Vatican" on Apple Podcasts and Spotify.]
"Under the guise of defending diversity, it ends up canceling all sense of identity," the pope said, "with the risk of silencing positions that defend a respectful and balanced understanding of various sensibilities."
Gerry also recaps how Pope Francis baptized 16 children in the Sistine Chapel this weekend—which brought back memories of when then-Cardinal Bergoglio baptized Gerry and his wife's children in Buenos Aires.
Read more:
Pope Francis critiques 'cancel culture' in address to diplomats from around the world
Pope Francis removes from Vatican doctrine office archbishop who is believed to have banned same-sex blessings
Pope Francis stopped by his favorite record store to say 'hello'