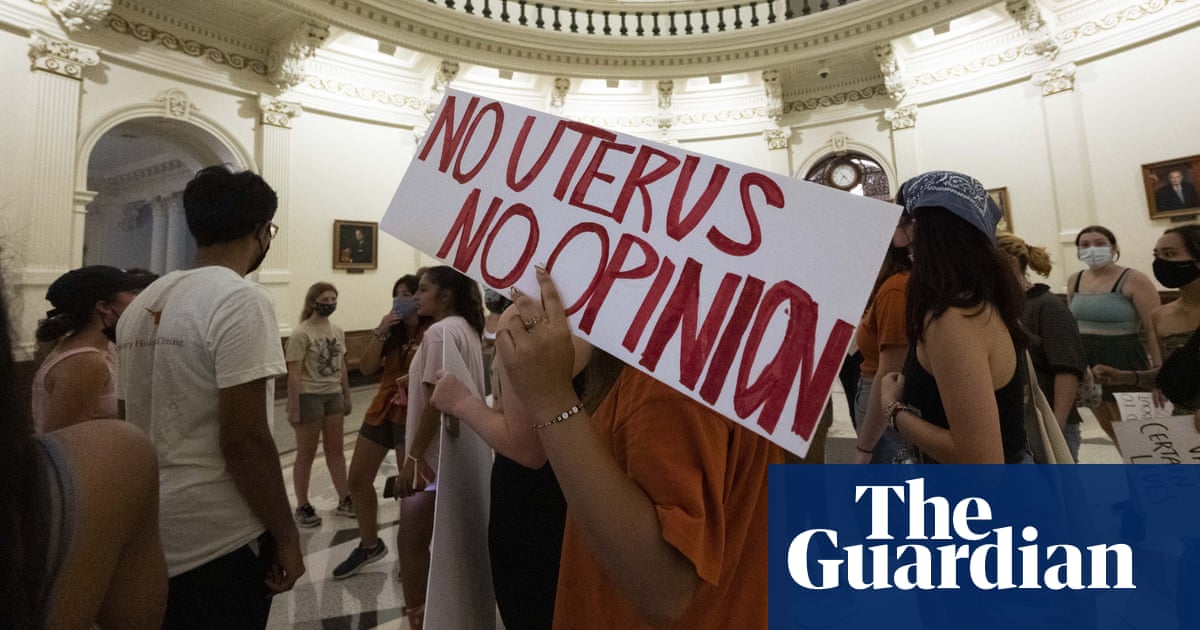 A Texas judge temporarily shielded abortion clinics from lawsuits by an anti-abortion group under a new state law, in a narrow ruling handed down on Friday.
The temporary restraining order from state district judge Maya Guerra Gamble in Austin, in response to a Planned Parenthood request, does not interfere with the law.
However, it shields clinics from whistleblower lawsuits by the nonprofit group Texas Right to Life, its legislative director and 100 unidentified individuals.
A hearing on a preliminary injunction request was set for 13 September.
The new Texas law, which took effect on Wednesday after the conservative-dominated US supreme court declined to block it, allows anyone anywhere to sue anyone connected to an abortion in which cardiac activity was detected in the embryo: as early as six weeks into a pregnancy, before most women even realize they are pregnant.
In a petition filed late on Thursday, Planned Parenthood said about 85% to 90% of people who obtain abortions in Texas are at least six weeks into pregnancy.
In her ruling, Judge Guerra Gamble said the new Texas law, known as SB8, "creates a probable, irreparable and imminent injury … for which plaintiffs and their physicians, staff and patients throughout Texas have no adequate remedy at law if plaintiffs, their physicians and staff are subjected to private enforcement lawsuits against them".
Elizabeth Graham, vice-president of Texas Right to Life, said: "We expect an impartial court will dismiss Planned Parenthood's lawsuit. Until then, we will continue our diligent efforts to ensure the abortion industry fully follows" the new law.
Texas Right to Life has created a website to receive public tips about violations, though the site was down on Saturday after its host, GoDaddy, said it violated terms of service including a provision against collecting identifying information about someone without their consent.
A spokeswoman said the group was moving the site to another provider and expected it to be running within two days.
The site, which has inspired activists to encourage people to flood it with misinformation, had not as of Friday received any credible tips about alleged violations, said Rebecca Parma, senior legislative associate for Texas Right to Life.
She said abortion providers appeared to be "complying with the law, and that's the whole point of the law in the first place".
Helene Krasnoff, a Planned Parenthood spokeswoman, said Judge Guerra Gamble's order "offers protection to the brave healthcare providers and staff at Planned Parenthood health centers throughout Texas, who have continued to offer care as best they can within the law while facing surveillance, harassment and threats from vigilantes eager to stop them.
"But make no mistake: this is not enough relief for Texas. Planned Parenthood will continue … doing everything we can under the law to restore Texans' federal constitutional right to access abortion."