In a real sense all life is interrelated. All [people] are caught in an inescapable network of mutuality, tied in a single garment of destiny. Whatever affects one directly, affects all indirectly. I can never be what I ought to be until you are what you ought to be, and you can never be what you ought to be until I am what I ought to be. … This is the interrelated structure of reality. —Martin Luther King Jr.
WHEN I STUDIED abroad in South Africa in 1996, I learned much about the power of interdependence and mutuality. There I encountered and experienced the southern-African philosophy of ubuntu. Through Nelson Mandela's moral leadership and embodiment of ubuntu, the nation was led through transformational change. Like Dr. King, Mandela refused to hate his enemies, including those who kept him imprisoned for 27 years, as he envisioned a future South Africa that included Black and white together.
Archbishop Desmond Tutu summarized ubuntu in what became a marker of both a movement and a philosophy: "I am because we are." Mpyana Fulgence Nyengele, author of Cultivating Ubuntu, offers this definition: "Ubuntu is the substance and core being of a person and speaks particularly about the fact that we cannot be fully formed as human beings in isolation." Rather, as Stephen Lewis, Matthew Wesley Williams, and Dori Baker share in Another Way, Nyengele explains that "it is only through our communal participation and interaction with other people that we begin to develop trust, compassion, caring, humility, kindness, and forgiveness, which are all qualities of what it means to be human and humane toward others. Similar to the fruit of the spirit, ubuntu is possible because ntu or Spirit 'orients persons toward life-giving choices, actions and behaviors.' … Therefore, 'ubuntu promotes and enhances the abundance of human life in community and beyond.'"
I think of ubuntu as an expanded, vivid version of the Golden Rule: We are called to do unto others as we would have them do unto us. Or, as King so often put it, we are to be "our brothers' and sisters' keeper."
Read the Full Article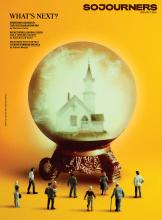 ​You've reached the end of our free magazine preview. For full digital access to Sojourners articles for as little as $3.95, please subscribe now. Your subscription allows us to pay authors fairly for their terrific work!
Already a subscriber?
Login