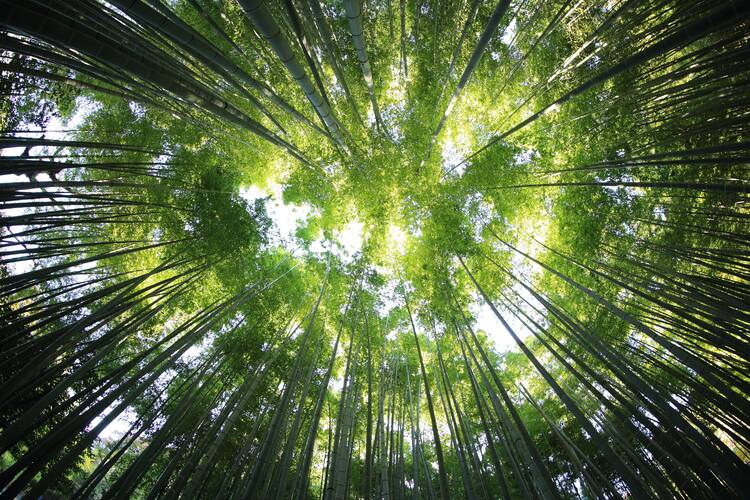 A Reflection for the Solemnity of All Saints
Readings: Revelation 7:2-4, 9-14 1 John 3:1-3 Mark 5:1-12a
Dante closes the "Divine Comedy," his poetic pondering of eternal life, with the image of a large, multiflora rose. Bees drink from its countless petals. It is the Florentine's version of St. John's white-robed multitude, and it is what we celebrate on All Saints Day, the communion of saints.
In form, then, of a luminous white rose I saw the saintly soldiery that Christ, With His own blood, took as His bride (XXX.1-3)
Dante has employed a consistent joy of human life, one so constant that we take it for granted: looking upon the multitude whose members create the singular. You only need to do a little mental subtraction to understand. Imagine a single stalk rather than a field of wheat. A lone leaf rather than a tree full of them. One grain of sand rather than a beach.
No human accomplishment comes close to echoing the superabundance that we find in nature.
No human accomplishment comes close to echoing the superabundance that we find in nature. There are a lot of windows in a view of midtown Manhattan, more than anyone would care to count. But what are these compared to a forest?
Try to imagine a world without the myriads of nature. It would be akin to a Hollywood set, satisfying enough until you compare it with reality. The truly astounding thing about God, the utter unity from which the universe emerges, is the multitudes God creates.
We do not live in a world with a few blades of grass, a few flowers, a few birds in the sky. And God did not create a world with only a few people. Dante's point is that the utter multitude of souls created and redeemed by God is necessary to imagine even a fraction of God's plenitude. Your beloved grandmother, mourning all those years for her husband; a meek medieval peasant, whose life was passed in fields of France he never inherited; a young Union soldier, thirsting for righteousness, who fell at Antietam. You and your great granddaughter. All these were created to be in endless communion with God and with one another.
Science pales into the transparent before the wonder, the bewilderment, of faith. Who cares how all these things came to be? And even if science were allowed a near eternity to count what is in the world and how it came to be, it would need still another eternity to take in the difference between two souls.
Ponder what we call the Communion of Saints. If you understand that we, those who came before and those yet to come, are not ocean waves, lasting but an instant in the eyes of eternity and then gone, you will find great delight. If you consider that each soul is like a star, destined never to be extinguished, you will tremble.