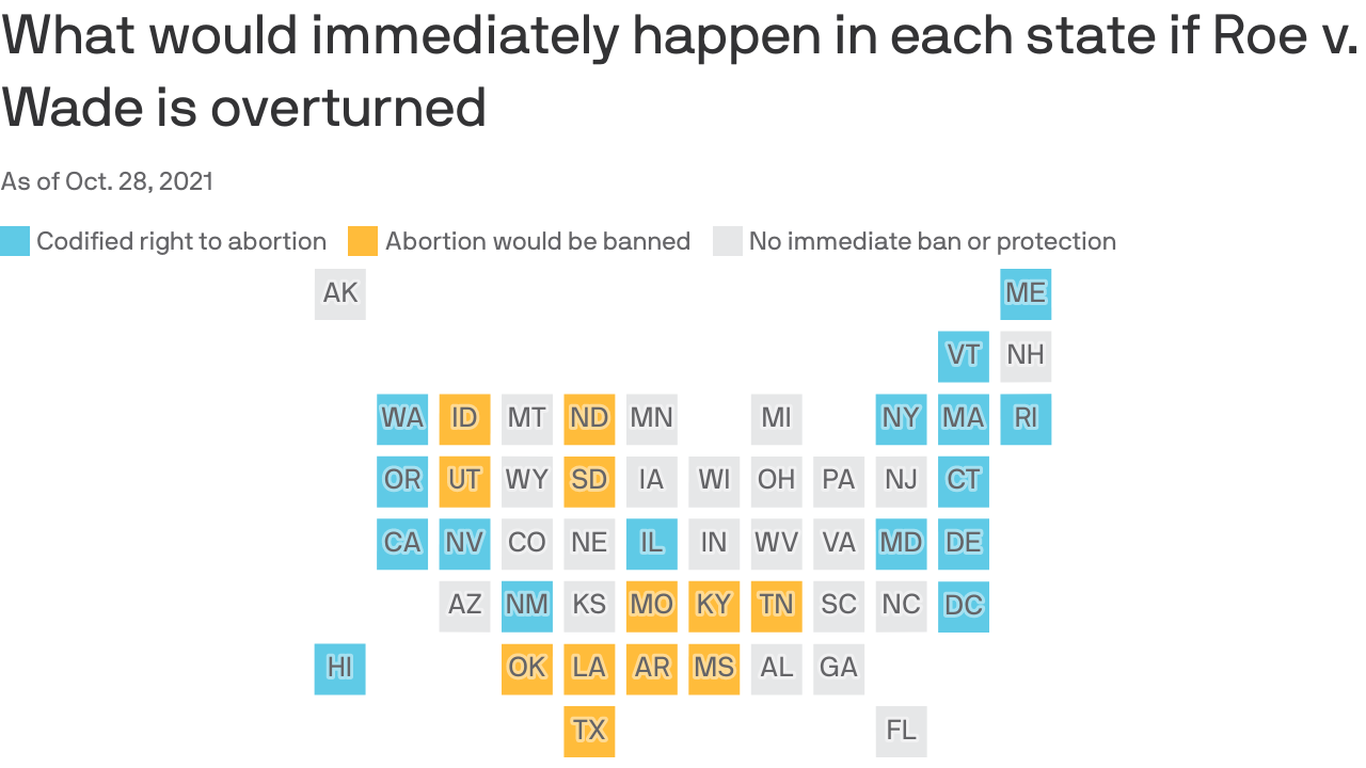 Abortion would immediately become illegal in at least 12 states if the Supreme Court were to overturn Roe v. Wade, and more would likely follow suit quickly.
Why it matters: States have been preparing contingency plans for a post-Roe landscape while state Republicans ramped up efforts to get the landmark ruling overturned. And the future of Roe is on the court's docket.
Driving the news: The court on Monday will hear oral arguments in two cases challenging a Texas law effectively banning abortions after six weeks of pregnancy. Abortion providers and the Justice Department are both challenging the law.
A month later, the court will hear another major abortion case, challenging Mississippi's ban on abortion after 15 weeks. The state is asking the court to overturn Roe.
Where it stands: If the court were to ultimately overturn the precedents that established the constitutional right to an abortion, a patchwork of state laws would govern the procedure.
Oklahoma on Monday will become the 12th state to have a "trigger law" in place — an abortion ban that would kick in right away if the court overturns its precedents. Four states have even amended their constitutions to prohibit any protections for abortion rights.
Several other states don't have trigger laws in place but would likely move quickly to ban or tightly restrict the procedure if the court clears the way: Florida, Indiana, Montana, Nebraska and Wyoming would be prime candidates, according to new analysis from the Guttmacher Institute, a reproductive rights research organization.
Alabama, Georgia, Iowa, Ohio and South Carolina have all enacted restrictive laws that were then blocked by federal courts. They could try to revive those policies in a post-Roe world.
The other side: At least 15 states and Washington, D.C. have enacted laws that would automatically keep abortion legal if Roe is overturned.
What they're saying: Overturning Roe would mean that "for the first time in two generations, states can use the democratic process to debate, achieve consensus, and enact laws to protect unborn children and their mothers," said Mallory Quigley, a spokeswoman for the Susan B. Anthony List, an anti-abortion advocacy group.
Between the lines: While the Texas cases will not be directly addressing whether the high court overturns or weakens Roe and Planned Parenthood v. Casey, the procedural questions they are focusing on could affect how states handle abortion legislation.
"If the court were to hold that federal courts are powerless to stop state laws that prohibit the exercise of a fundamental federal constitutional right, then that gives states an easy avenue to get around Roe and Casey," Marc Hearron, lead counsel for abortion providers in Whole Woman's Health v. Jackson, said in a press call las week.
And the Mississippi case a month later does directly implicate Roe.
Go deeper: Anti-abortion activists' Supreme Court dreams are coming true