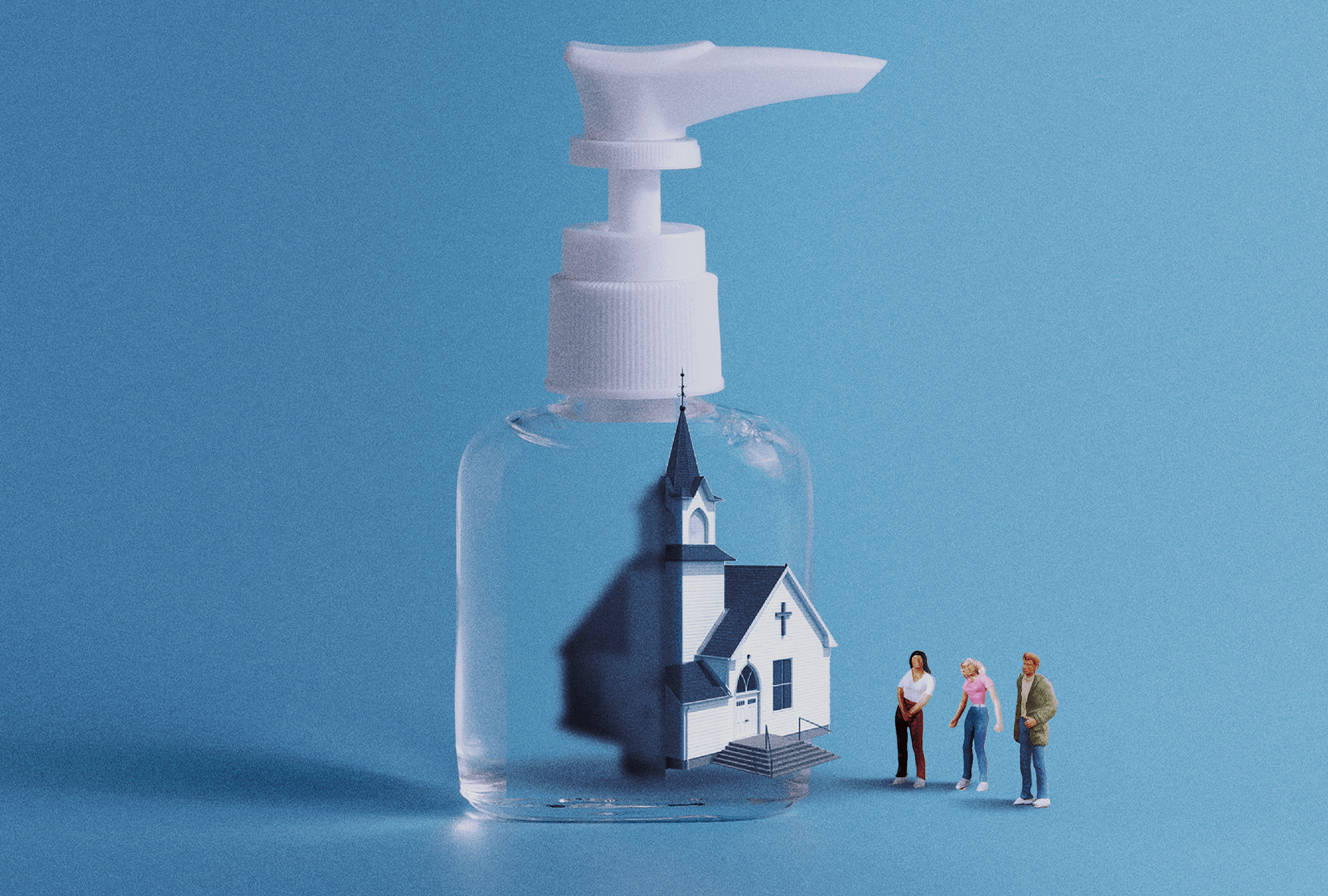 WHEN MUCH OF THE UNITED STATES was ordered into a lockdown last March, pastors followed suit, shutting the doors of their sanctuaries, parish halls, and classrooms. For many pastors, choosing to close was an easy decision to make in the moment. It was an act of love centered on the health and safety of their congregants.
But what came after was harder. While some churches had been offering online services for years, many did not have the technology in place to make a seamless switch. For weeks, I watched the pastors of my parent's church in Virginia pass a set of Apple AirPods back and forth while a church member propped an iPhone in place. And even those who were able to stream their services struggled with how to ensure certain members of their community were not left out. "We have so many people in our community who are in that 70-and-up range and for whom Sunday morning is the most life-giving part of their week," Rev. Nick Coates of Red Deer Lake United Church in Calgary, Alberta, said. "And they [didn't] have the ability to move online with us."
For others, the moment presented more than a technological challenge, stirring theological questions as to what worship even was without the physical incarnation of the church body. Who would we be after more than a year of doing communion "with apple juice and Ritz crackers?" Pastor Peter Chin of Rainier Avenue Church in Seattle wondered. Now, with mask mandates lifted and vaccination rates on the rise, that moment has arrived. And pastors have returned to their buildings only to be met with more questions than answers and wondering where we go from here.
How do we show up?
ONE THING IS certain: "There will be no going back," Rev. Dr. Jonathan Chapman of Westfield United Church of Christ in Killingly, Conn., said. "We all knew that things would be adapted, but I think that what we're realizing is that not only have the goalposts moved, but we're playing an entirely different game. We thought when we got to the other side of the pandemic, we would all have a little breathing room. I think there's a realization that we're only halfway there with what the implications are."
Chapman joined Westfield UCC as pastor eight years ago during a difficult time in the church's 300-year history. The largely politically purple congregation in a "blue collar town" had experienced a "remarkable revitalization" in the years leading up to the pandemic. Now, as the congregation returns to the church, Chapman says he is slowing down, rethinking the priorities they once set, and taking time to redefine what "success" means beyond metrics. For Chapman, whose church "believes in the heavenly banquet being a potluck," that future hinges on coming together again—in person. Broadcasting worship is "a fine substitute," he said. "But it's only a substitute. I think our leaders, our congregations, our congregants have to make the case for being together, that we are better when we are together. That the spirit moves in a different way among us when we are together."
But Chapman cautions that coming together again is not an invitation to usher in the return of what was. "The shadow side of this pandemic is that I think it's revealed a level of idolatry among our churches," he said. "It's revealed a level of doing just for the sake of doing. Of achieving just for the accolade. Of preparing and delivering, just to knock that out and make it happen." Now is the moment for pastors to ask what Chapman referred to as the "harsh" questions: Why is your church still open? What's the ministry you're really doing? "Not accusingly," Chapman said. "But I suspect that's a question that's been in the back of many pastors' minds. The Catholic Church has largely consolidated parishes and there's been a whole lot of reaction to that. And yet, from an administrative and a ministerial perspective, I can understand it. When we lift up the existence of our congregation, simply because they were, always have been, I think we are bowing before a false god. And so, I guess the second piece of that question is, who are we worshiping?"
Rev. Dr. Sidney S. Williams Jr., pastor of Bethel Church of Morristown in New Jersey, turned to the prophets for guidance. In the midst of the pandemic, Williams told Sojourners, the book of Amos—"where Amos basically said that God was not pleased with our worship services or our sacrifices"—really resonated. "For me, that was prophetic," Williams said, especially "with the civil unrest, the death of George Floyd, and just the unresolved trauma of so many other names."
Scripture revealed what Williams had been witnessing in the church long before the pandemic—a lack of relevance. "We're not engaging in conversations and in civil action where we should," he said. "We were kind of just doing a routine, you know, what we've always done." The churches that will survive as we emerge from the pandemic are going to have to think beyond the script, Williams told Sojourners. "We've already demonstrated that the church doesn't need the building," he said. "It's not the building that makes us relevant. It's how we engage people in the midst of trauma, how we engage people who are looking for answers to some of life's toughest questions."
Now is the moment for pastors to be asking what Christ would say to the challenges of our day. "If we were to take the word of God seriously, what does it mean to say, 'set the captives free'?" Williams asked. "How does that manifest itself in this issue of mass incarceration? What is good news to the poor with mass evictions on the rise, with people losing jobs and benefits, family instability, community instability? What does it mean to be light and salt in a dark and tasteless world? And how do we show up? What's our vocational identity now?"
Tending to the beloved community
FOR REV. JANE GOULD of St. Luke's Episcopal Church in Long Beach, Calif., and Pastor Cindy Lapp of Hyattsville Mennonite Church in Maryland, the forced move to virtual platforms presented opportunities for their congregations to reckon with racial injustice in ways they had not done while in their respective church buildings.
"You walk into most Episcopal churches—certainly ours—every image in every stained-glass window is white," Gould, whose congregation worships in both English and Spanish, told Sojourners. "The church is very fixed and formal. With Zoom worship, we had the freedom to invite our friends from all over the country to preach for us."
Following the murder of George Floyd, Gould's church issued a pastoral letter on race that committed their parish to the work of deconstructing racism and named that while the Episcopal church had passed legislation at general conventions on racial reconciliation, very few people had actually done the work. "And so, we committed to doing it and we committed to claiming it as a mission priority for our entire congregation," Gould said. For 10 weeks through the summer and fall, in lieu of the traditional epistle readings, congregants read letters to the church from the community—largely from Black, Indigenous, and people of color and young adult members of the congregation. "Paul's letters essentially talk about how the early Christians need to live into their calling as followers of Jesus Christ," Gould said. "Ours was how do we in this moment live into our calling as followers of Jesus Christ." Seventy members signed up for an online affinity group called "My Work to Do" to engage in conversations surrounding racism, injustice, and reconciliation. Others participated in a program through the Episcopal Church called "Sacred Ground" to engage in film- and readings-based dialogues on race. In November, the church joined with LA Voice, a multifaith advocacy organization, to encourage voter engagement and educate congregants on ballot propositions they saw as essential to caring for their community.
"Now, as we begin to reenter our building, we're saying, 'OK, so now that we come back together, how do we live into becoming beloved community?'" Gould said. "How do we do the work both within our community, but also in relationship to the neighborhood, state, and country around us?"
In Maryland, Lapp is facing similar questions as she considers welcoming congregants back to the church building. "The twin pandemics of white supremacy and COVID-19 gave us a chance to really work at understanding whiteness and white supremacy and policing and prisons in a way that I don't think would have happened if we were in person," Lapp told Sojourners. "Really looking at white supremacy and whiteness has been impactful for us as a congregation, certainly for me as a pastor, and gives me some goals for the coming years to say, 'OK, these are some things I want us to keep working on, and what could that look like? And how do we get more people involved in dismantling white supremacy?'"
Where worship takes place
WHILE SOME CHURCHES were making plans for how to safely reopen their doors, others were preparing for what happened when congregants didn't—or couldn't—return. "One of the big consequences of COVID-19 was place," Pastor Chin of Seattle said. Not only did worshiping in "pajamas in a living room" impact people's understanding of where worship could take place, he said, but people had to physically move because they couldn't find work, needed to be closer to family, or found more affordable housing elsewhere.
While often necessary, the increased movement of people poses an ideological challenge for Chin's church, which is a member of the Christian Community Development Association, a network of ministries committed to engaging the under-resourced communities in which they are located. "There is the paradigm, or the model, of being close to people and being rooted in a location for a long as you can. And then there's the human reality of migration and change, change in employment, and gentrification, and all these kinds of psychosocial things that are also happening," Chin said. "I think there's going to come a reckoning between the Christian ideals of staying rooted in one place and the reality that very rarely do people stay rooted in one place."
It's a truth Rev. Colin Mathewson of St. Luke's Episcopal Church in San Diego, Calif., has been reckoning with for some time now. "Our biggest threat to our congregation is just the high price of housing in San Diego. We lose a few families each year to some other state where it's cheaper to live," said Mathewson, whose church consists largely of Congolese Americans and Sudanese Americans. During the pandemic, Mathewson's church chose to convert their sanctuary into a learning pod where children from the neighborhood could come and receive meals and complete school assignments with the support of a tutor. "We have a lot of English language learners, some newly arrived refugees, and kids who are already struggling a lot with school," he said. "The fact that it could take place in the sanctuary just felt that much more of a blessing for all of us."
Now that children are returning to school, Mathewson said the church is coming up with ways to ensure families have the economic means to stay in the community post-pandemic, including starting a catering social enterprise to provide job opportunities and income. "My hope is that we find ways that people can really find a more stable financial situation and care better for their families [and] deepen their relationship with God because they're focusing a little less on surviving and more on thriving," he said.
Like Mathewson, Chin is also preparing for the future church—one he recognizes will continue to be impacted by gentrification long after the pandemic breaks. In 2019, a national study ranked Seattle third in a list of the most quickly gentrifying cities in the U.S. And it's not just housing that's expensive, a story by The Seattle Times stated. Groceries, transportation, health care, and other goods are 9 percent to 40 percent more expensive in Seattle than the national average. "It's one thing when you're trying to stay in a poor community. It's another thing when you're trying to stay in what's becoming a rich community," Chin told Sojourners. "That's going to have to be a reckoning for Christians who love communities, who want to be invested. How do we create some framework for us to make sense of migration, of change, of pandemic, of how fluid places [have become due to] remote working, and learning, and all these different things?"
Do we need Sunday morning?
REV. COATES IN Calgary has decided he isn't going to spend his time post-pandemic trying to get people to return to the church on Sunday mornings. Instead, Coates said he is thinking of ways his church can "decentralize Sunday," ensuring the congregation is investing energy in things that are just as important as their Sunday convenings, such as justice initiatives and social gatherings. "We're really excited to begin to see how Sunday morning just ceases to be or becomes one thing among many, instead of the most important thing that we do," Coates told Sojourners.
But rethinking Sunday is just part of a larger discernment that Coates hopes the global church will engage in rather than rushing back to the way thing were before the pandemic. "If the pandemic lasted like two months, we'd just go back to what we always did," he said. "But people have grieved what they knew long enough to where we actually have the opportunity now to have something new rise up."
Coates envisions a collective church body that is more collaborative than territorial; more focused on sharing resources than retaining members; and more attuned to what's happening in the community than just inside the church walls. "Maybe," he said. "We can not only reimagine church but reimagine worship and spiritual practices, and have a whole new rejuvenation of what it means to be humans."
If the pandemic showed us anything, it's that people can worship from anywhere, in anything, with anything—even apple juice and Ritz crackers. Why then should the future church not be the same? As we reemerge, pastors face a moment, as Coates said, to "practice that resurrection," to find innovative and impactful ways to be the church in their communities. We can lament and grieve what was lost, Coates affirmed, "But can we also make room for something new?"