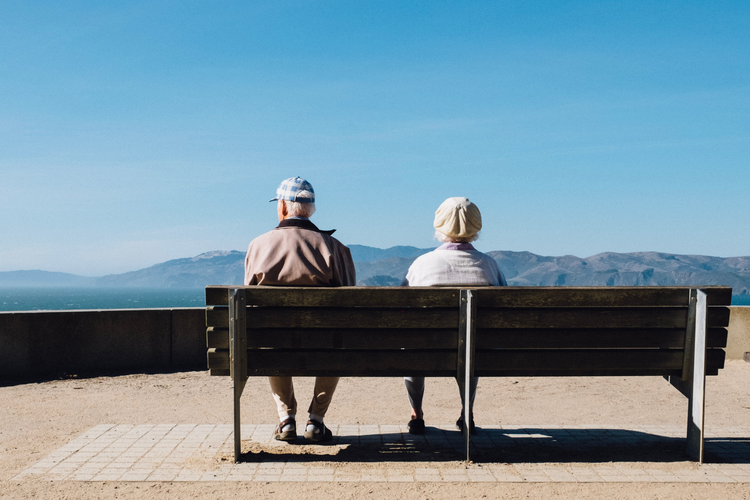 A Reflection for the Twenty-first Sunday in Ordinary Time
Readings: Joshua 24:1-2, 15-17, 18 Ephesians 5:21-32 John 6:60-69
It happened in the seventies in winter, on the day after St. Nicholas Day. That was a fête in the parish and the innkeeper, Vasili Andreevich Brekhunov, a Second Guide merchant, being a church elder, had to go to church, and had also to entertain his relatives and friends at home.
Even without the Russian name, you know that this story is neither contemporary nor local. Who considers himself compelled to go to church these days? Who feels obligated to entertain relatives and friends at home?
It's Leo Tolstoy's short story, "Master and Man." Vasili Andreevich is the master, and he wants to buy property at a premium price. To do that he must get there quickly with a cash offer. Despite his being what we would call a "pillar of the parish," Vasili Andreevich takes money from the Sunday collection and drags his servant, his man Nikita, out into a snowstorm.
The master in the story is well dressed for the cold and burning for profit, but neither the horse nor his servant is prepared to be out in a snowstorm with the sun going down and the wind coming up. Nikita wears only "a short sheepskin coat, which was torn under the arms and at the back, was greasy and out of shape, frayed to a fringe round the skirt, and had endured many things in its lifetime."
The rich—or, better, those who want to be rich—are still willing to satisfy themselves at the expense of others, especially those who work for them.
Why do we still read Tolstoy? Because he knows us. The rich—or, better, those who want to be rich—are still willing to satisfy themselves at the expense of others, especially those who work for them. Repeatedly in Tolstoy's story, the master Vasili Andreevich and Nikita become lost in the blizzard. They find shelter several times but continue to re-enter the storm, driven by the master's greed.
Eventually, master and man, horse and sledge, are trapped in a snowy culvert. Vasili Andreevich abandons his servant Nikita, riding away on the horse, determined to save himself. But the frozen, maltreated beast throws him and runs off into the night.
Returning to the sledge, Vasili Andreevich sees Nikita at the point of death. Neither he nor the horse had ever been far from collapse, but this is the moment when the master finally sees the cost of his cupidity.
"Why, are you really frozen?" asked Vasili Andreevich.
"I feel it's my death. Forgive me for Christ's sake…" said Nikita in a tearful voice, continuing to wave his hand before his face as if driving away flies.
Throughout the story, Nikita remains a humble, obedient and pious servant. He accepts whatever his master wills. And now, like many a poor person before and since, he's about to die because of his master's avarice. But this is the moment when the venal Vasili Andreevich finally alters his response to God, his way in the world.
Vasili Andreevich stood silent and motionless for half a minute. Then suddenly, with the same resolution with which he used to strike hands when making a good purchase, he took a step back and turning up his sleeves began raking the snow off Nikita and out of the sledge. Having done this he hurriedly undid his girdle, opened out his fur coat, and having pushed Nikita down, lay down on top of him, covering him not only with his fur coat but with the whole of his body, which glowed with warmth. After pushing the skirts of his coat between Nikita and the sides of the sledge, and holding down its hem with his knees, Vasili Andreevich lay like that face down, with his head pressed against the front of the sledge. Here he no longer heard the horse movements or the whistling of the wind, only Nikita breathing. At first and for a long time Nikita lay motionless, then he sighed deeply and moved.
"There, and you say you are dying! Lie still and get warm, that's our way…" began Vasili Andreevich.
Joshua tells the Israelites at Shechem,
If it does not please you to serve the Lord,
decide today whom you will serve,
the gods your fathers served beyond the River
or the gods of the Amorites in whose country you are now dwelling.
As for me and my household, we will serve the Lord (Jos 24:15).
And the people answered,
Far be it from us to forsake the Lord
for the service of other gods (Jos 24:15).
But the Israelites are quite like us. They intend to offer a response that is steadfast but their own humanity, under the siege of sin, fails them. St. Peter tells Jesus he is not going anywhere, but, come Calvary, that does not prove to be true, does it?
God loves completely, unconditionally and irrevocably. We cannot manage any of the three.
That's the difference between us and God. God loves completely, unconditionally and irrevocably. We cannot manage any of the three. Our love, our gift of self, is always partial. We impose conditions, and we often revoke our own promises. God does not need a lifetime of daily decisions, which ebb and flow, to make a gift of self. We do.
Although he knows that our consent is tentative and partial, Christ calls us only once to baptism, because what matters most in the water is his decision for us. It will not be revoked. Yet the Lord knows that even when we consent, we will need time to ratify that decision, to make something firm and abiding of it. That's why he gives himself to us in the Eucharist, where our assent offered in baptism weathers and ripens. We return each week, each year of our lives, until we get it right. And we need our lives, the longevity God grants us, to do that.
Often enough, as Tolstoy knew, we choose Christ later, more partially and slowly than we think we do. Nikita will live to see another day. Vasili Andreevich will not, but this is the night when he truly begins to live.
But to his great surprise he could say no more, for tears came to his eyes and his lower jaw began to quiver rapidly. He stopped speaking and only gulped down the risings in his throat. "Seems I was badly frightened and have gone quite weak," he thought. But this weakness was not only not unpleasant, but gave him a peculiar joy such as he had never felt before.